Just hours after Jeremy Clarkson was suspended for allegedly thumping assistant producer Oisin Tymon and Top Gear was removed from the schedules, tens of thousands of fans have signed a petition demanding his reinstatement and the "freedom to fracas."
Clarkson, who allegedly punched the producer several days ago, was suspended when the incident was reported to the BBC today (10 March). Next Sunday's edition of Top Gear - featuring Gary Lineker - has been pulled from the schedules and two others postponed whilst an investigation takes place.
A statement from the corporation said: "Following a fracas with a BBC producer, Jeremy Clarkson has been suspended pending an investigation. No one else has been suspended. Top Gear will not be broadcast this Sunday. The BBC will be making no further comment at this time."
However fans of the writer and presenter were quick to speak up on his behalf. On Twitter Katie Hopkins wrote: "Clarkson suspended by BBC. I don't care what he said. Clarkson all the way. #TopGear #topbloke"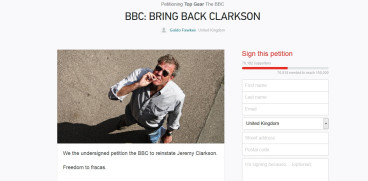 A petition started by Guido Fawkes to reinstate Clarkson to the show had been signed by over 100,000 people by 11.40 pm, at a rate of around 10,000 per hour.
One signer, Nick Leaton from London, said he signed "Because its the only thing left that justifies the license fee. This is just left wing BBC censoring the only right wing comedy left."
Another, Joseph Honeck from Minnesota, wrote: "Jeremy Clarkson brings joy to millions, his humor has helped my family members battle depression, and we look forward to every episode of Top Gear, new and old, to bring humor into our home."
Clarkson has been no stranger to controversy over the years, and it is understood he was on a "final warning" from BBC bosses. However Top Gear brings in huge amounts of foreign revenue for the corporation, being watched by around 350 million people in over 100 countries, and sacking its main presenter could draw the BBC into yet another controversy.
Not everyone was on Clarkson's side, however. On Twitter Clarkson's old adversary Piers Morgan simply wrote: "I'm available."