Sacked BBC presenter Jeremy Clarkson will host two Top Gear Down Under specials for the BBC next month (April 2015), sparing the BBC from potentially costly lawsuits.
The two live shows scheduled for 18-19 April in Sydney, have already sold around 40,000 tickets, many of whom could demand their money back if Clarkson, 54, doesn't appear alongside co-hosts Richard Hammond and James May.
Although Clarkson's £1m per year contract with the BBC was terminated following an investigation into a fight with producer Oisin Tymon, he has a separate contract for lucrative live shows on behalf of BBC Worldwide.
The tour, also taking in South Africa, Belfast, Sheffield and London, has sold 200,000 tickets and will take in an estimated £11m ($16m). However, the shows may have to be re-named to "MPH Live" or "Clarkson, May and Hammond Live".
A source told the Sunday Mirror: "Talks are going on to try and ensure this event goes ahead. The main priority is the thousands of people who have bought tickets. The feeling in Sydney is that the three presenters want to do it, thousands of fans who've bought tickets want to see it, so just get it on."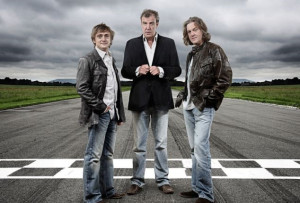 Fallout from the Clarkson affair continues to present major headaches for the corporation, with Director-General Tony Hall assigned ex-special forces bodyguards after receiving a death threat for sacking the controversial presenter.
Lord Hall and his wife are receiving round-the-clock protection at their Oxfordshire home following what was described as a credible threat directly relating to the sacking of Clarkson. It is estimated the protection is costing license-payers more than £1,000 a day.
A number of other BBC programmes have been affected by Clarkson's sacking. Motoring show The Getaway Car needs reformatting as it features Top Gear driver The Stig and forthcoming BBC2 comedy show W1A had to reshoot a scene which referred to Clarkson and "damage limitation".