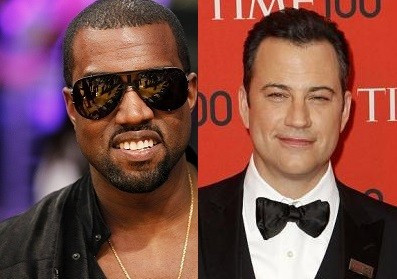 Kanye West has waged war on Jimmy Kimmel after the chat show host poked fun at the rapper's highly-publicised interview with BBC Radio 1′s Zane Lowe.
West, 36, directed a profanity-filled Twitter rant at Kimmel after he recreated the Gold Digger star's passionate and self-indulgent ramblings, with the help of two children.
The parody, which had the kids dressed up as West and Lowe while sipping on milkshakes, did not go down well with West and he took their feud online.
"Jimmy Kimmel put yourself in my shoes. Oh no that means you would have gotten too much good pussy in your life," he raged in one tweet.
Another read: "Should I do a spoof about your face or you f**king Ben Affleck. ##nodisrespecttobenaffleck alldisrespecttojimmy"
As West's insults continued to flow online, Kimmel tried to make light of their dispute on his show.
"Quick question," he told the audience. "Did anyone else get a very angry phone call from Kanye West about an hour and a half ago? Just me? OK, I didn't know if he was mad at all of us"
Kimmel claimed that although West had threatened him during their private chat, he was elated to finally have a rap feud.
He said: "He told me I had two choices: apologise publicly... and that was really the only choice!
"The other choice he gave was that my life - 'Your life,' he said, 'is going to be much better if you apologise.' Then he started tweeting today and I don't even know if I've seen some of these tweets, because they're happening as we speak...
"And he told me this on the phone, I swear. He said, 'I am the most powerful voice in media. I am 'Pac!'' He said 'I am 'Pac'' a few times to me.
"He said, 'You'll never be able to show your face at a 14-year-old's high school football game and be cool again.'
"I don't understand it, I don't know why he's angry again. I thought the bit was pretty innocuous. Finally I'm in a rap feud."
Kimmel concluded by enlisting the protection of his side-kick Guillermo, who vowed to watch his boss' back.
West has since deleted the tweets and the duo appear to have called a truce - for now.
What do you think? Are you team Kanye or Jimmy? Leave a comment and let us know.