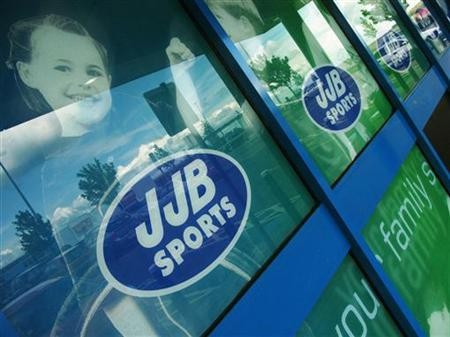 JJB investors lost over a quarter of their cash held in the sportswear retailer, after the firm reported worse than expected sales in the second quarter of the year.
There was no anticipated boost in sales of football merchandise during the Euro 2012 Championships, the company said, while record rainfall has kept consumers away from its stores.
Like-for-like sales in the 22 weeks to 8 July fell by 8 percent. JJB shares plunged by around 29 percent in early trading on the London Stock Exchange.
"Considering that this year is one of the most significant in the sporting calendar for a generation, JJB's numbers are extremely disappointing - all the more so as they demonstrate a marked deterioration in trading since the last update," Neil Saunders, managing director of retail analysts Conlumino, said.
"JJB had been banking on a boost to trade that simply failed to materialise. Worryingly, if JJB is overstocked this may well have a negative impact on margins as discounting will now be required to shift product.
"The weather has also been generally unhelpful as it has driven down footfall numbers on the high street, which will inevitably have impacted on JJB's trading."
JJB also announced that Robert J. Corliss will replace Mike McTighe as chairman from 1 September.
The embattled retailer was given a £20m April injection by investor Dick's Sporting Goods, and an extra £10m from shareholders, to help it get back on track.
However it said its performance has "deteriorated" since the start of April, adding that its results had fallen "materially short of expectations".