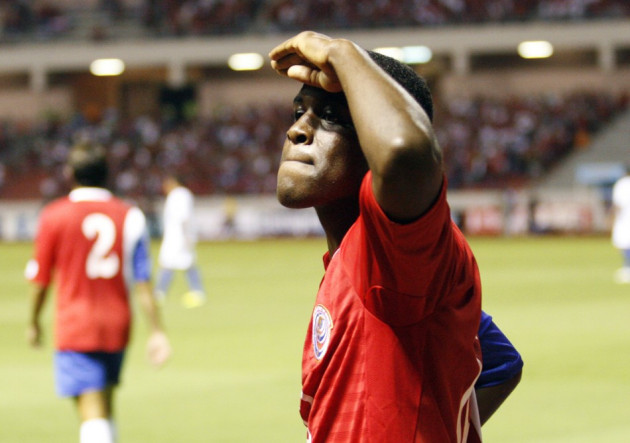 Arsenal youngster Joel Campbell is facing a third consecutive loan spell away from the club as Arsene Wenger aims to bring an established forward option into the fray this summer.
The 21-year-old has been unable to feature for the Gunners since signing for the club in 2011 due to his inability to obtain a work permit, spending the last two seasons out on loan at Lorient and Real Betis.
But despite being granted a visa another loan spell is on the cards with Arsene Wenger unable to promise the Costa Rica international first team opportunities as he aims to reinforce his forward options with a world class finisher.
"Joel has received his visa and I am London with him working on his future," Campbell's agent Joaquim Batica is quoted as saying in the London Evening Standard.
"I had meetings with Arsenal and we are working on his next destination."
While Wenger may prefer to see the young striker make a loan move to a club in the Premier League after spells in France and Spain, Campbell has previously indicated he would be open to a return to Betis.
"That (Betis) want me to stay makes me proud, but the clubs are in control of this," Campbell said in May. "It is not up to me, it is 50-50 at the moment.
"For me I am very happy with my first year. I have played a lot although I am aware I can give a lot more. The level there is very high, but I have fitted in pretty well. I like the city, the climate and I am relaxed there. It has been a very productive personal and footballing experience."
Arsenal currently have Olivier Giroud, Theo Walcott and Lukas Podolski as their striking options, with the Frenchman the club's only consistent centre forward option. Yaya Sanogo will represent another after being signed from Auxerre in May and despite impressing for France during this summer's Under-20 World Cup he is unlikely to be thrust straight into the first team.
Campbell is likely to lie at the bottom of the Gunners' current pecking order, and could find himself further down that list should Arsenal fans get their wish and the club make a marquee signing before the transfer window closes.
Both Wayne Rooney and Luis Suarez remain linked with a move to the Emirates as their relationship with their respective clubs shows little sign of improving.