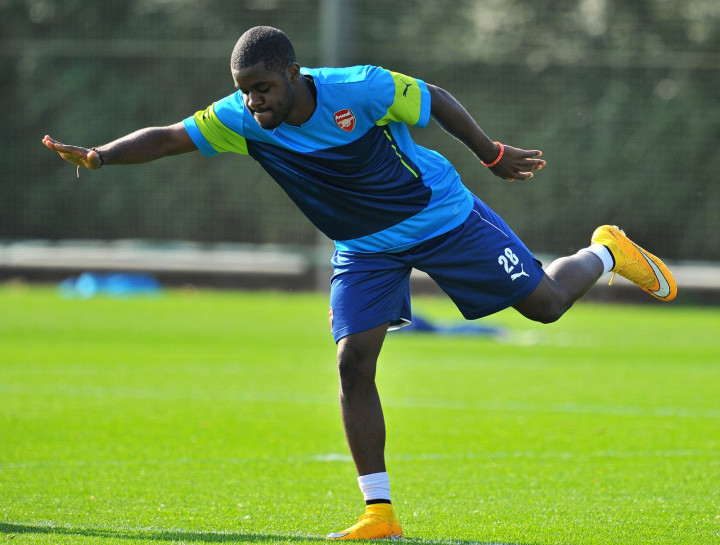 Arsenal striker Joel Campbell has played down reports suggesting that he is pushing for a transfer in January and revealed that he is "very calm" with regards to his future at the Emirates.
The 22-year-old has made only two Premier League appearances from the substitutes' bench for the north London club. He has played less than 40 minutes in the league this campaign.
Earlier reports suggested that lack of playing time under Arsene Wenger will see Campbell force a move away from his current employers in the mid-season transfer window. However, the Costa Rican international has dismissed those suggestions and says he will wait for his chance to shine for Arsenal.
"What they have been saying is not true, I'm very calm. I have not been furious," Campbell said on www.sports.bycampbell.com.
"Obviously, yes, I would like to be playing, but that's something that has to be earned day by day. I have to keep training and waiting for the opportunity, I know it's a very competitive team."
"Arsenal is one of the best teams in the world where there are many important players. I have to be patient, keep training and I know my chance will arrive and I'll have to take advantage of it when it comes."
"[I've learned] a lot (from Arsene Wenger). He is a coach who has many years in football and with Arsenal. I am learning from him and from my peers every day in training. I'm doing my best to be a better player every day," the Gunners striker stressed.
Campbell impressed during his season-loan loan at Olympiacos and his form saw him being included in the national side for the World Cup. The striker was one of the standout players for Costa Rica during the summer tournament in Brazil.
Earlier in the summer, Portuguese club Benfica were keen on signing Campbell. However, the deal did not go through and the striker's agent Joaquim Batica has slammed Wenger for blocking the transfer.
"Benfica fought until the last minute to sign Campbell but the move didn't happen because, in the last hour, Arsenal decided to keep him," Batica is quoted as saying by O Jogo in September.
"Wenger says he did not want to sell him. But if he is not in his plans, then why not allow him to leave?"