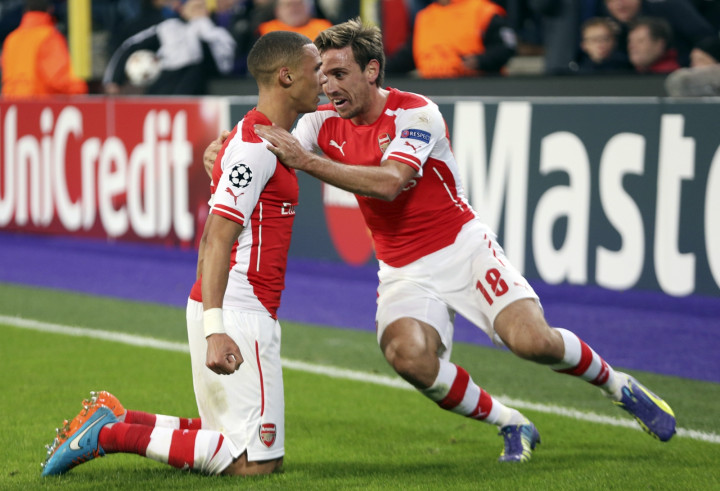 Arsenal legend Ray Parlour believes the Gunners players need to solve the defensive crisis they are facing on their own instead of looking up the manager.
The north London club have conceded 13 goals in the Premier League. Also, their lack of discipline in the back four saw them give away a three-goal lead during the Champions League clash against Anderlecht earlier this month, forcing them to settle for a draw.
Arsenal have seen two of their key players, Laurent Koscielny and Mathieu Debuchy, out on the sidelines with long-term injuries. Arsene Wenger was forced to play Nacho Monreal as a centre-back along with Per Mertesacker in the last few matches.
Despite the recent injury concerns, the former Arsenal midfielder believes the Emirates club lacks the ability to sort out issues on the pitch on their own.
"The players have to sort [their defensive performances] out between them, you can't keep looking over to the manager," Parlour told talkSPORT.
"Arsene didn't have to tell us that when we go in front we had to defend, I think we just did it automatically."
"I played with the likes of Tony Adams, Patrick Vieira and Emmanuel Petit, who wouldn't let you get out of position, so it isn't down to coaching, it's down to the individual players to know when to defend at times."
"That's what the Arsenal team probably don't have at the moment, they want to go forward all the time – which is what they did against Anderlecht – and you can't expect to do that and keep clean sheets," he added.
Meanwhile, Parlour revealed that Wenger lost it with his players during a league clash against Manchester United in 2001, which saw Arsenal suffer a 6-1 loss at Old Trafford.
"There was only really one time he lost it, and he really had a go, when we were playing Manchester United at Old Trafford. We were 5-1 down at half-time," the Gunners legend explained.
"At the time, Arsene and Ferguson were having a bit of mind games in the press and it was a really poor first-half performance from us, it could have been seven or eight – Dwight Yorke and Andy Cole were absolutely flying."
"That's the only time he ever really lost it with us, most of the time he's a calm character," Parlour concluded.