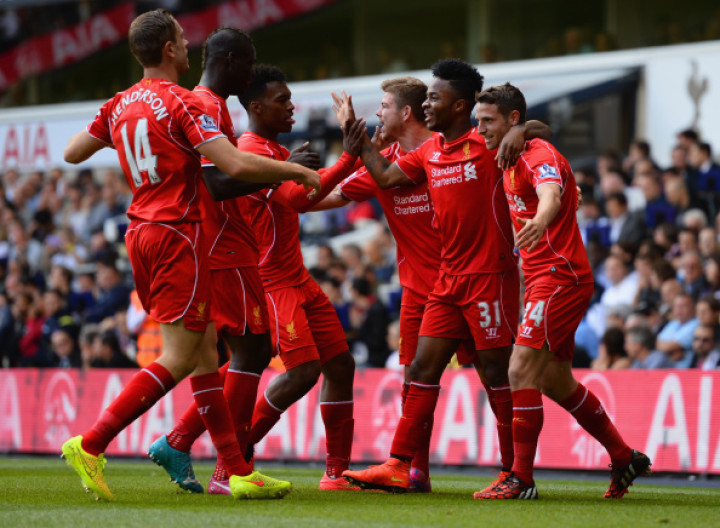 John Aldridge says victory over Tottenham Hotspur shows Liverpool still have enough firepower even without Luis Suarez.
Brendan Rodgers saw his side bounce back with a 3-0 win over the north London club after suffering a 3-1 defeat at the hands of the Premier League champions Manchester City in the second match of the season.
Raheem Sterling opened the scoring for the Merseyside club before the Reds skipper doubled the lead after converting the penalty just after the start of the second half. Summer signing Alberto Moreno scored a brilliant solo goal as the Spaniard netted his first goal for Liverpool.
The former Reds striker says the result against Mauricio Pochettino's side has seen Liverpool bring Tottenham back down to earth. Aldridge also went on to hail the goal scorers, along with Daniel Sturridge and Jordan Henderson for their impressive display against the White Hart Lane outfit.
"The performance showed that even without Luis Suarez we've got a lot of firepower. What a great reaction from Liverpool to the defeat against Manchester City," Aldridge told the Liverpool Echo.
"Tottenham were on a real high but we brought them back down to earth with an excellent victory at White Hart Lane."
"There was much better balance to the side on Sunday than there was in the opening two matches. It worked well with a front two of Daniel Sturridge and Mario Balotelli and then a midfield diamond behind them."
"Looking at our opening three fixtures, five points would have been a decent return. As it is we've got six and the advantage City got by beating us at the Etihad disappeared when they lost at home to Stoke."
"There were so many good individual performances on Sunday, including Jordan Henderson, Sturridge and Alberto Moreno. But I've got to say that Raheem Sterling was absolutely outstanding."
"We all knew this was going to be a big season for him after the progress he made in the second half of last season. He really delivered in that central role and Spurs just couldn't handle him," the Anfield legend concluded.