John McAfee claims 'every router in America has been compromised' by hackers and spies
McAfee spoke out after WikiLeaks' released documents detailing CIA hacking tools.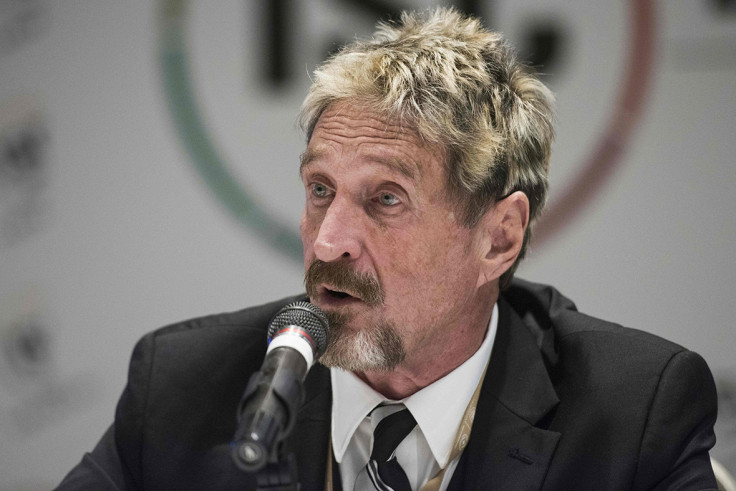 Technology pioneer John McAfee believes that every home internet router in America is wide open to cyberattacks by criminal hackers and intelligence agencies. He makes the claim speaking after revelations from WikiLeaks that the Central Intelligence Agency (CIA) targets the devices.
"I personally never connect to any WiFi system. I use the LTE system on my phone, I know that sounds crazy, but that's the only way I can be secure. Because every router in America has been compromised," he told Russian state news channel RT this week (20 June).
Five days prior, whistleblowing platform WikiLeaks published a fresh batch of documents which purported to show how the agency could hack into popular home routers from firms like Linksys, D-Link and Belkin. The programme was codenamed CherryBlossom.
The aim, WikiLeaks said, was to intercept internet traffic of targets using a tactic known as man-in-the-middle (MitM). The CIA could allegedly hit any router to "monitor, control and manipulate" traffic from phones and tablets connected to the wireless network.
McAfee said: "It's not just the CIA, all of these routers, that's virtually all routers in use in American homes, are accessible to hackers. They can take over control, monitor all of the traffic and can download malware onto any device that is connected to that router."
The exploits outlined in the CherryBlossom files (WikiLeaks did not publish source code) could seemingly be used to target devices in homes, cafes, hospitals, airports and businesses. Many believe this is simply evidence the CIA is doing its job – but not McAfee.
"There's nothing in the American constitution that gives the government the right to invade the privacy of my home or any place I have the presumption of privacy," he said, adding that widespread router hacker is "devastating" news for American individuals' privacy.
"Once the router is compromised and it infects the cellphones, laptops, desktops and tablets then they become compromised," he continued. "Not only can you watch the data, you can start listening to conversations. You can start watching through the cameras on these devices."
Not everyone was convinced of the severity of the WikiLeaks release.
Jake Williams, cybersecurity expert and former NSA hacker, said most people are already open to attack from less sophisticated methods. He tweeted: "Most of you have never updated your vulnerable WiFi router firmware. You don't need to worry about CherryBlossom."
The CIA files were published as part of an ongoing series dubbed "Vault 7", the source of which remains unknown at the time of writing. Previous leaks covered exploits for iOS smartphones, Android devices and Smart-TVs. The CIA is still investigating the incident.
© Copyright IBTimes 2023. All rights reserved.