WikiLeaks, the well-known whistle-blowing platform managed by Julian Assange, has released a fresh set of documents purportedly obtained from inside the Central Intelligence Agency (CIA). It's the second release in under a month, after the initial drop of "Vault 7" files on 7 March.
Posted to its website this week (23 March), WikiLeaks titled the release "Dark Matter". It describes the new leak as containing documentation for several CIA projects designed to target Apple Macs and iPhones. The files show how the CIA gains "persistence" on these devices, it claimed.
Like the previous leak, which detailed a series of hacking exploits used to infiltrate iOS and Android operating systems, the documents appear to have been pilfered from a division of the US intelligence agency called the Embedded Development Branch (EDB).
One project, codenamed "Sonic Screwdriver", is described as a method of "executing code on peripheral devices while a Mac laptop or desktop is booting" and may allow a CIA attacker to boot malware from a USB stick "even when a firmware password is enabled".
Another document outlines a form of alleged malware, dubbed "Triton", which can be used to target Mac OSX. One implant, called "DarkSeaSkies", is said to be used to attack the firmware of Macbook Air computers, WikiLeaks said in its release.
The "NightSkies" implant is designed to be "physically installed onto factory fresh iPhones" which WikiLeaks says indicates the agency has been infecting the iPhone supply chain of its targets since at least 2008. NSA whistle-blower Edward Snowden recently said this was a popular attack method.
WikiLeaks released five documents in total. Now, security analysts and researchers will start to pore over the release in an attempt to verify its legitimacy. The last publication, and WikiLeaks' analysis of it, was previously blasted by some experts as exaggerated and overblown.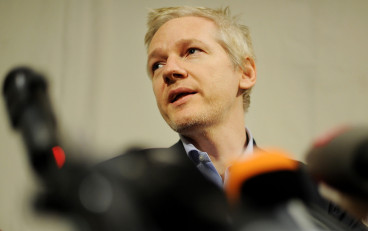 The FBI is currently spearheading an operation to locate the leaker. The CIA has not officially confirmed the authenticity of the leak.
In a statement to its website, it said: "It is CIA's job to be innovative, cutting-edge, and the first line of defence in protecting this country from enemies abroad. America deserves nothing less.
"The American public should be deeply troubled by any WikiLeaks disclosure designed to damage the Intelligence Community's ability to protect America against terrorists and other adversaries."
In a recent interview, Assange promised more leaks would soon be released. "It's a big year for WikiLeaks," he teased. Previously, as IBTimes UK reported, he claimed the initial "Vault 7" release was "less than 1%" of the full trove obtained by his organisation.