John McAfee Back in USA Following Deportation from Guatemala [VIDEO]
Fugitive software pioneer John McAfee has been deported from Guatemala and is back in the USA.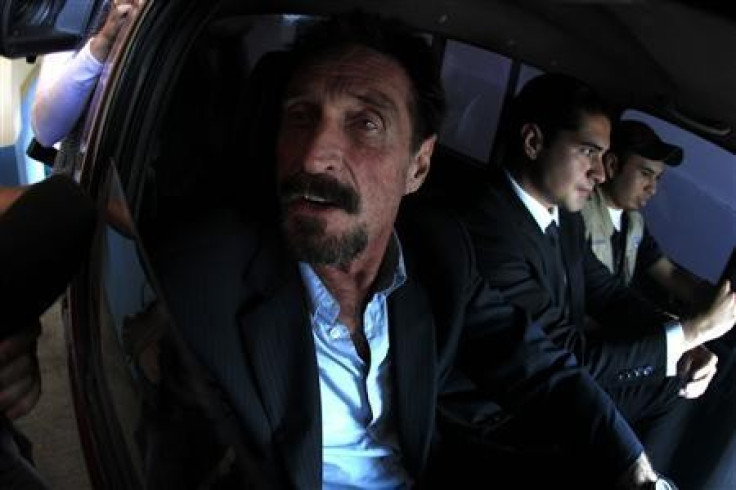 McAfee, 67, landed at Miami airport on Wednesday evening after being deported from Guatemala where a judge found that he had entered the country illegally last weekend.
McAfee, who has been on the run from authorities in Belize where he lives for over a month now, has been in a Guatemalan detention centre ever since crossing the border from Belize.
After landing, McAfee, 67, was escorted from the plane by airport security officers, passengers said. Shortly afterward, he tweeted, "I am in South Beach," referring to the popular tourist area on Miami Beach.
"Some people felt uncomfortable that he was on our flight. ... We all knew the story," said Maria Claridge, 36, a South Florida photographer who was on the Silicon Valley entrepreneur's flight to Miami.
McAfee, who was seated in the coach section and had a whole row to himself, was wearing a suit and was "very calm" during the flight, she added.
Tired and depressed
"He looked very tired, he looked like a man who hadn't slept in days. I'd say he even looked depressed," said another passenger, Roberto Gilbert, a Guatemalan who lives in Miami.
The Belize authorities are seeking to question McAfee as a "person of interest" in relation to the murder of his neighbour Gregory Faull. McAfee's legal team managed to block an attempt by authorities to get the former anti-virus pioneer extradited back to Belize.
McAfee, who has been blogging about his escapades for the past month, gave an interview to Bloomberg over the phone prior to being escorted to a plane which brought him back to Miami.
During the interview, McAfee said:
"I'm getting exported, expelled. I will be leaving on the 3.40pm flight to Miami on American Airlines and I have no choice in the matter. However I am perfectly happy with the decision."
He added that he had just recorded an apology for the President of Guatemala for putting him a "slippery position" saying he sympathised with the President's position and he hoped the President sympathised with his position.
When asked if the Belize authorities will still be looking to question him regarding the murder of Faull, McAfee said: "I've offered to talk to the police numerous times on the phone. This is not an issue of talking about a murder, it is an issue of putting hands on my person"
Blog update
McAfee even managed to update his blog from the plane, where he said he had been separated from his 20-year-old girlfriend Sam Vanegas, who has been on the run with him over the past month.
"I'm happy to be going home," McAfee, dressed in a black suit, told reporters shortly before his departure from Guatemala City airport on Wednesday afternoon. "I've been running through jungles and rivers and oceans and I think I need to rest for a while. And I've been in jail for seven days."
He said he had no immediate plans after reaching Florida.
"I'm just going to hang in Miami for a while. I like Miami," he told Reuters by telephone just before his plane left. "There is a great sushi place there and I really like sushi."
© Copyright IBTimes 2023. All rights reserved.