John McAfee, who is on the run from police in Belize over his neighbour's murder, will seek political asylum in Guatemala.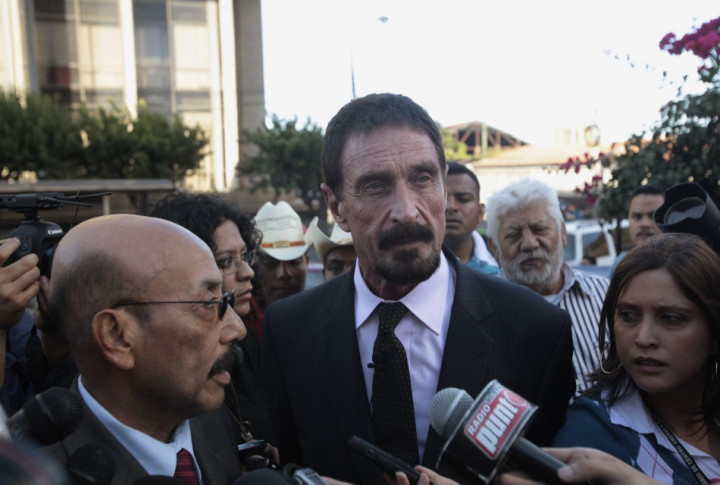 McAfee, 67, has been in hiding since 11 November when his neighbour, Gregory Faull, was found with a bullet wound in his head. The authorities in Belize want to question McAfee as a "person of interest" in relation to the case.
On his blog this morning, McAfee said he will hold a press conference in Guatemala City tomorrow, 6 December, at 2pm local time (8pm GMT) where he will read a prepared statement and answer reporters' questions.
Over the weekend, McAfee smuggled himself and his girlfriend, Samantha, across the porous land border that Belize shares with Guatemala. He stayed at a hotel in a national park before heading for Guatemala City on Monday evening.
McAfee also announced that he had retained the services of Telésforo Guerra, a former Attorney General of Guatemala, "to assist in my fight against the Government of Belize."
Speaking to Reuters from Guatemala Supreme Court, McAfee said: "I have no plans much for the future now. The reason I chose Guatemala is two-fold. It is a country bordering Belize, it is a country that understands the corruption within Belize and most importantly, the former attorney general of the country is Samantha's uncle and I knew that he would assist us with legal proceedings."
McAfee, who claims to have worn several disguises while on the run, dressing up once as a Speedo-wearing, drunken German tourist, appeared in front of reporters with his hair and goatee dyed black, and wearing a black suit and tie.
Tattoos
This is a far cry from the image of McAfee portrayed in several pictures take prior to the murder of Faull, where he is seen with blonde highlights, wearing shorts and a singlet - showing off his tribal tattoos.
Speaking through his blog, McAfee said he has had no contact with the American Embassy in Belize as he feels employees there are in league with the Belize government: "Since many employees of the Embassy are Belizean nationals, I did not feel safe in communicating with them. Now that I am in Guatemala, and in a safe harbour, I will reach out to the Embassy here."
The eccentric McAfee also offered to meet the Belize Prime Minister Dean Barrow in a neutral country to discuss the corruption he believes is rife in the country.
"It is entirely possible that you have little or no knowledge of the level of corruption being propagated throughout every branch of your government. I will turn over to you thousands of hours of video and audio as proof, providing that we meet as gentlemen and are mutually convinced of our honesty."
Barrow had previously called the software pioneer "bonkers" and "extremely paranoid."
He also address the family of Gregory Faull, saying: "I had nothing to do with his death. I have lost five close family members in my 67 years and I know your suffering."
Minister
Harold Caballeros, Guatemala's foreign minister, said his government was unaware of any arrest warrant and would study McAfee's asylum request once presented, saying its success would "depend on the arguments."
Guerra told Reuters McAfee would return to Belize once his situation in Guatemala was made legal, citing the fact he had crossed into the country illegally to avoid capture by police in Belize.
"He can go to the United States, there is no problem with that," he added. "We have asked the US embassy for support with our (asylum) request."
He said the asylum request would be formally presented on Wednesday.
Must Read: