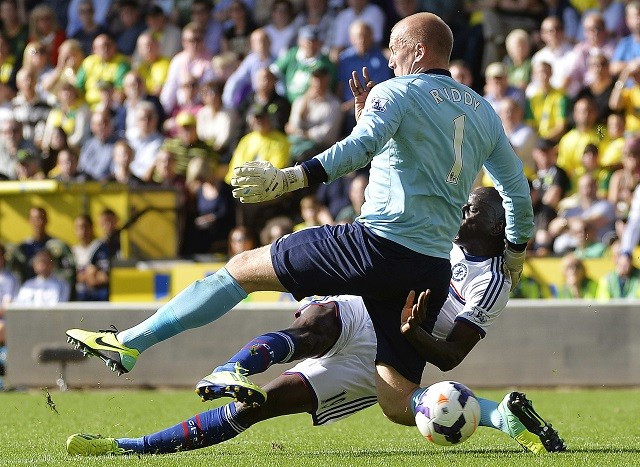 Norwich goalkeeper John Ruddy is hoping that Norwich can beat Liverpool to take three points but hopes that the same is not fatal to the Reds' hopes of winning the league title.
Norwich has been a happy hunting ground for Luis Suarez. He has scored three hat tricks against them, and Ruddy hopes that the Uruguayan is not up to his tricks this time around.
Norwich are currently among the mix for relegation and need points from their last few fixtures to stay afloat in the league. Their next games are against Arsenal, Chelsea and Manchester United, and their performance in the rest of their games will decide their tenure in the league.
Liverpool will be without the suspended Jordan Henderson and the injured Daniel Sturridge, but Suarez's presence - who is usually at his best in this fixture - will be a major cause for concern.
"I hope we get the three points but I hope Liverpool win the league for Stevie. He deserves something for the commitment he has shown to Liverpool. But first and foremost we're in desperate need of points," Ruddy said.
Meanwhile, the stopper has also ascertained his allegiance to the Canaries and insisted that he is grateful to the opportunity they have presented him.
"I'm contracted to Norwich for four years and owe the club a lot. So, until someone from the club says I'm on my way, I'll be at Norwich for the remainder of my contract," he stressed.
"The one thing I'd like to make clear is that I am passionate about this club. It is a club that has given me anything that's worth any value in my life – it's all come from being at this club.
"They took a massive gamble when they took me here so I owe them a lot and when someone questions my passion, it is something I take exception to. That is what I thought happened.
"I don't take exception to many things but that is one thing I do. I give 100 per cent every match because of what the club has given me. And THAT is what I told the fan, in a very friendly manner!" he concluded.