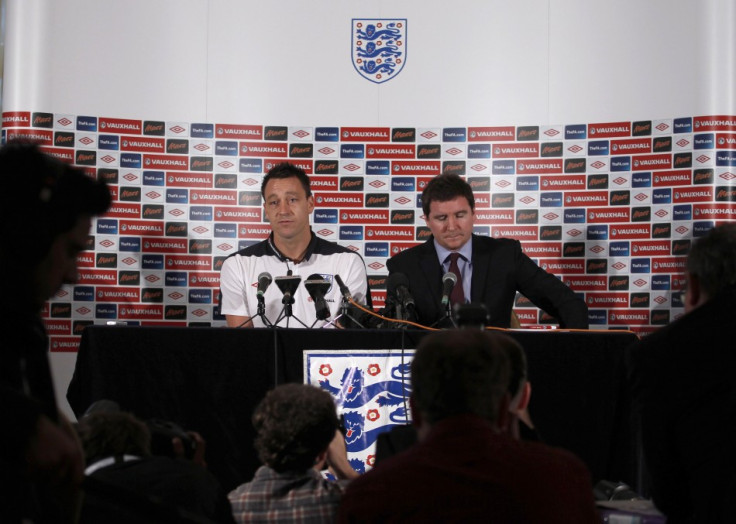 Questions about racism have been blocked by the FA media officer as John Terry fronted up to the media for the first time since allegations were leveled by Anton Ferdinand against the skipper.
Terry was asked in the first question for the press conference today about the racism row, and Mark Whittle, a media officer for the FA insisted, that the issue would not be covered as he prepares to face Sweden in a friendly tomorrow.
The Chelsea skipper did however tell reporters that being at the press conference was a show of his ability to move past the off-field issues and concentrate on the game ahead.
"Being captain is about coming out and facing up to it," he said.
Terry insisted that fans booing him was part of being an international player, and that on the whole England fans will be on their team's side as they take on Sweden.
"We clapped the fans and got a good reception back. I get boos always," he explained.
"The players have been very good. The players showed we are united no matter what."
Terry also argued that he is competing for his place on the England squad on a daily basis, and doesn't believe he's invincible when Fabio Capello makes his selections for the side.
"I don't feel that at all," he said.
"Now everyone wonders who's going to be in and who's not going to be in. Every game that I pull on an England shirt I feel that we're all playing for our places. You can never take it for granted."
The media conference was an awkward experience for the returning captain, despite the fact that England defeated World Cup champions Spain 1-0 at the weekend. While Sweden is another friendly, it is still all-important for Capello, who will use the match as another attempt to work out which tactics are best in preparation for the 2012 Euros.
And Capello is clearly hoping to use Terry as the centre point of his team next year, with the manager telling reporters: "He is here. He will be with us. He will be the captain."
When asked about the racism saga, Capello was quick to dismiss the issue, asking for another question.