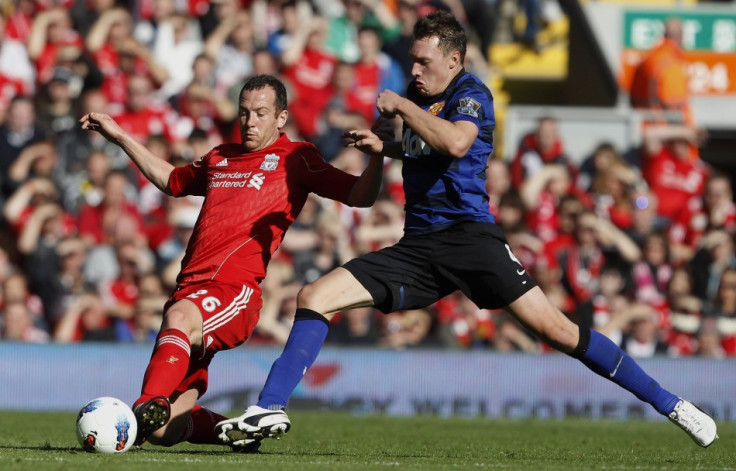 Former Manchester United midfielder Wilf McGuinness has dismissed the increasing comparisons between Duncan Edwards and Phil Jones, by describing the former as 'incomparable' and a cross between Roy Keane, Bryan Robson and Liverpool icon Steven Gerrard in their pomp.
The aforementioned Jones has been widely lauded as one of the brightest young players to emerge from British football in many a while, and although that may be true of the Manchester United youngster, McGuinness believes comparisons to Edwards are grossly premature.
Jones moved to Manchester United from Blackburn Rovers in the summer and although he did so with a lofty reputation, he has more than surpassed it. The 19-year-old has played more games than any of his Old Trafford colleagues this season, with Sir Alex Ferguson showing a willingness to play Jones in a variety of positions.
The lavish comparisons to footballing luminaries of the past have been plentiful and perhaps unhelpful but the likes of Franco Baresi, Fernando Hierro, Paul McGrath, Liverpool captain Steven Gerrard Bryan Robson and the aforementioned Manchester United demigod Edwards have all been mentioned when referencing Jones' evident talent.
While happy to acknowledge the form of the Manchester United starlet which has belied his relative inexperience, McGuinness suggests Edwards was simply a one off talent unlikely to be encountered in the game again.
"I have always thought of Duncan as being incomparable and I still do," The former Manchester United star told the Manchester Evening News.
"To me he was like Roy Keane, Bryan Robson and Steve Gerrard rolled into one. That was Duncan. I don't think anyone can compare to that."
Although Edwards' unique talents for Manchester United are still regularly discussed and revered around Old Trafford and English football in general, McGuinness concedes there are obvious similarities.
"I hear what people are saying about Phil Jones and that's fine but I wouldn't want to saddle him with the Edwards comparison - I don't think that would be fair on the lad." The ex-Manchester United midfielder continued.
"But there are similarities. There is no question about that and I certainly think Jones is going to be a player in the mould of Keane, Robson and Ince for Manchester United.
"His future at Old Trafford is looking very, very good and he is going to be an excellent player for the club. He is a really exciting player and has the makings of being a great player for Manchester United.
"I think we should be happy about that for now and make comparisons maybe when he's finished his career."