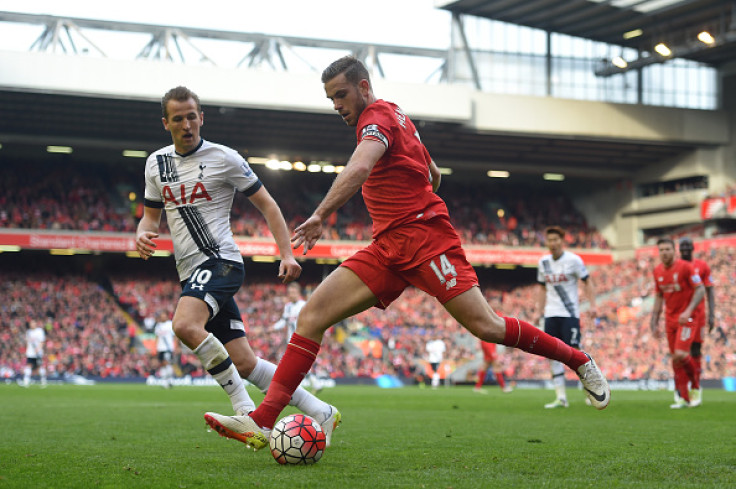 Liverpool midfielder Jordan Henderson believes he is getting back to full fitness after he was sidelined for three months in the first half of the season. The Reds skipper suffered a foot injury against Bournemouth in August and was sidelined until mid-November and despite featuring on a regular basis since his return, the midfielder has not been at his best.
The 25-year-old former Sunderland star is a key player for Jurgen Klopp as the Merseyside club fight for a top-six finish in the Premier League this season, while also preparing for a quarter-finals clash against the Reds manager's former club Borussia Dortmund. Henderson put in his best performance since his return, when he walked away with the man of the match trophy in their 1-1 draw against Tottenham Hotspur on Saturday (2 April) and believes he will only get better as the season enters the final stretch.
The England international is also part of Roy Hodgson's plans for the Three Lions' campaign at the European Championship finals in France later in the year and the Liverpool skipper is keen to contribute despite not being fully fit. Henderson is aware that he needs a long period of rest to get fully fit, but that is likely to happen only after Euro 2016 before the start of the next campaign.
"I feel as though I'm getting back to where I want to be," Henderson told the ECHO.
"Sometimes I can be my own worst enemy if I'm playing with an injury or different things. It's my own fault at times. But that's just the way I am. I want to play football. I want to try and put myself out for the team."
"I feel as though now I'm starting to get back to the physicality — that's a big part of my game. When that's correct then everything else seems to flow much better. I felt good against Spurs," the Reds midfielder added.
"When I was away with England I think I put in one of my highest performances of the season (against Germany) in terms of the physical side of the game which was pleasing for me."
"I got confidence from that and I just need to continue to work instead of trying to play catch up all the time."