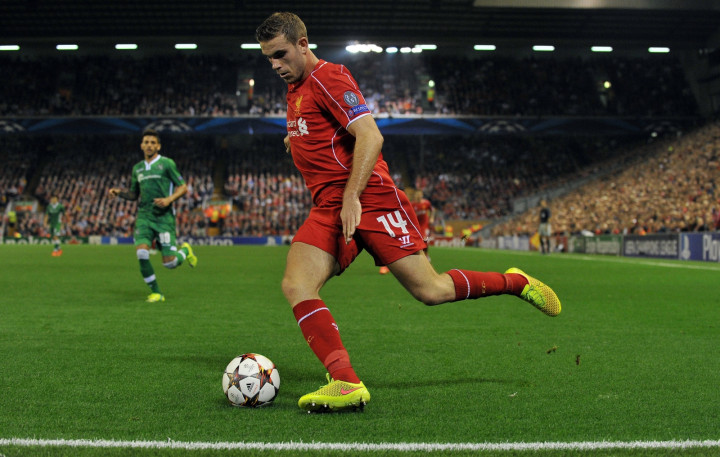 New Liverpool vice-captain Jordan Henderson is eyeing replacing Steven Gerrard as the club's permanent skipper once the legendary midfielder retires.
Henderson has been installed as the deputy to Gerrard for the new season following the departure of Daniel Agger to cap a remarkable turnaround in his Anfield career.
The 24-year-old is now the leading contender to succeed Gerrard as Liverpool captain once the ex-England captain's career comes to an end but admits discussions over when he might acquire the armband are yet to be held.
"I am sure it's a long while yet [until Gerrard retires]," Henderson told Sky Sports. "I am not thinking that far ahead [in terms of becoming the new Liverpool captain] to be honest because a lot can change in football very quickly.
"I will just look to support Stevie whenever I can and in a few years' time we'll see where we're at."
Upon the confirmation of Henderson as Gerrard's understudy for the new campaign, the 34-year-old tipped his midfield partner to follow him as Liverpool captain.
"It's very well deserved," said Gerrard about Henderson's appointment. "It's no surprise to me. I'm sure he will be the main man and club captain in a few years when I've gone.
"He epitomises everything a captain is. He works hard, both on and off the pitch, he's well liked in the dressing room, he leads by example and let's not forget, he's a top player as well."
The praise has overwhelmed Henderson, who says he is "honoured" to have been handed such a prestigious responsibility.
"It's a good feeling, coming from the best leader not only at Liverpool and England but in the game itself," he added. "He is the perfect role-model for any player in this term or any young player. I try and learn from him every single day.
"It's a big honour for me personally to be vice-captain as such a big club like Liverpool, an amazing club. It's a great honour to be given the extra responsibility from the gaffer as well."