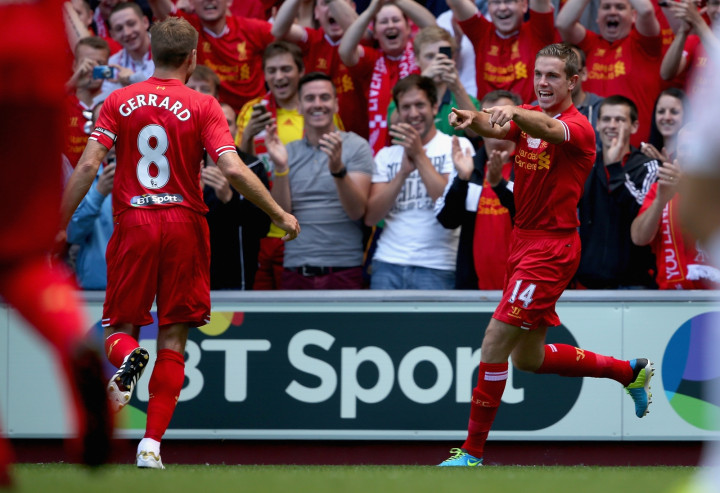 Liverpool midfielder Jordan Henderson has revealed their Champions League fixture against Ludogorets was difficult.
The Merseyside club featured in Europe's elite club competition for the first time in five years. The Reds left it late as Steve Gerrard's penalty helped them seal their first win in this season's Champions League in front of their home fans.
Brendan Rodgers has strengthened Liverpool's squad over the summer but most of the players at Anfield lack Champions League experience. The newly appointed vice-captain says it will be a learning curve for the club and believes the Reds have quality to improve in the European competition.
"We thought it would be difficult as there are no easy games in the Champions League. It wasn't easy at all and they made it difficult. We will learn a lot from it but the most important thing was three points," Henderson explained.
"It (Champions League) is a little bit different. I thought the crowd were incredible and the atmosphere was brilliant but you just have to adapt as best you can."
"You just have to play your own game and we did that at times but we can still be better. Everybody is looking forward to the next game now and we've got to keep improving," he added.
Liverpool signed Mario Balotelli from AC Milan on a £16m deal last month. The Italian international was on target as he scored his first goal for Rodgers' side. However, it was Gerrard's penalty in the dying moments of the match that saw them avoid a draw at Anfield.
Henderson has expressed his delight after the former Manchester City striker opened his goal scoring account for Liverpool. The midfielder has now backed the Italian international to find the back of the net on a regular basis for the 18-times English champions.
"It will be really important for him and the club as well because he is off the mark now and I think that will give him the confidence to go and get a lot more. He worked his socks off and he got his just rewards," Henderson concluded.