Jorge Sampaoli and Ernesto Valverde have tried to evade questions linking them with the Barcelona dugout as the duo are still fully focused on their current jobs at Sevilla and Athletic Club Bilbao respectively. The Argentinian manager and the Spaniard have emerged as the two main candidates to replace Luis Enrique at the Nou Camp after Luis Enrique announced he will be quitting at the end of the current campaign.
Polls conducted by Catalan publications Mundo Deportivo and Sport in the aftermath of Luis Enrique's statement showed that majority of Barcelona fans want Sampaoli to replace Luis Enrique in the summer.
Meanwhile, Valverde appears to be the third choice behind Sampaoli and Liverpool's Jurgen Klopp but reports in Spain indicate the Athletic Club boss is the Barcelona board's favourite.
Sampaoli also beat Valverde on Thursday night (2 March) after Sevilla defeated Athletic Club 1-0 in La Liga – despite the Basque side missing a number of chances to secure a draw.
The former Chile boss has maintained his only focus is to help Sevilla in the concluding part of the season as the win leaves them only one point behind Real Madrid and two behind Barcelona on the La Liga table.
"The truth is that I have no idea what you are talking about," the Sevilla boss said in the post-match press conference when asked about the Barcelona links. "Being a candidate or talking about potential candidates at this moment of the tournament, when we are fighting where we are... I'm only focused on that. I can not give you an answer about speculation or reports from the media. This question doesn't have an answer because it doesn't exist."
Sevilla are likely to give Sampaoli a new deal as a reward for his outstanding season but the Argentine insists he is yet to receive a formal offer.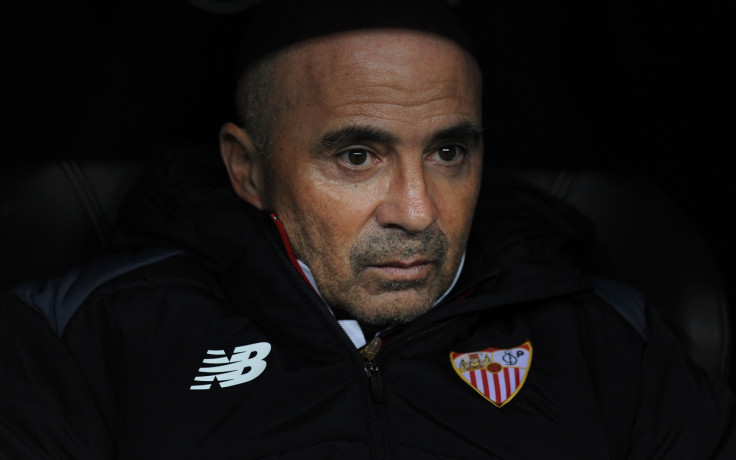 "We haven't formally met with anyone to discuss the future projects so that's not true," Sampaoli added. "But it's true that there are intentions, there is a team fighting every game to be up in the (La Liga) table and thinking about the second-leg of the Champions League (last-16) in England (against Leicester City). We are living our reality, in the short-term there won't be time to make decisions about the future. The present is too intense."
Meanwhile, Valverde also remained coy when asked about his potential move to Barcelona despite his current contract at Athletic set to expire at the end of the current season.
"I have nothing to do with a manager leaving a team or not. That's none of my concern. I'm focused on my team," Valverde said following the defeat at Sevilla. "I understand all the reports around the managers. Sometimes they give you a team and sometimes they leave you without out team. This is part of the game but I'm not affected about it because I'm focused on what's ahead at Athletic."
Valverde has already seen his name linked with Real Madrid in the summer of 2015 before Rafa Benitez was eventually appointed.
And when reporters pressed whether this time he will consider a move to Barcelona, he replied: "What I'm considering right now is Athletic. This is not the first time that they link me with another team and it is not the first time that when you are under scrutiny they want to get you out of yours. It's a part of the football that there are reports about it but I don't have to give a response to everything."