Jose Mourinho has accused Manchester City players of going down too easily ahead of the Manchester derby on Sunday (10 December).
Manchester United welcome Pep Guardiola's side to Old Trafford this weekend with the former looking to inflict City's first defeat in the Premier League. The Etihad Stadium outfit are favourites for the title this season having already opened an eight-point lead over the Red Devils in second place.
Mourinho and Guardiola shared a fractious relationship during their time together in Spain when they were again battling for the La Liga title with Real Madrid and Barcelona respectively, and it has resurfaced following the duo's arrival in England. The two sides have met three times so far since the duo took over with both winning once and the other ending in a 0-0 draw.
The Portuguese coach was full of praise for Guardiola's team ahead of the derby which could have major implications in the title race despite it being December. Mourinho praised the players, the coach and their style of play, but said the only problem with the City squad is that the players get blown over a little too easily.
Mourinho is not the first manager to accuse the City players of diving, as his arch rival Arsene Wenger made similar claims after Arsenal's 3-1 loss at the Etihad Stadium last month. In that case, it was Raheem Sterling, who looked to have gone down after minimal contact with Nacho Monreal. But Wenger did clarify his statements later and made it clear that it was not accusation against the England international.
"They are a good team," Mourinho said, as quoted by Sky Sports. "They defend well, they react well to the moment they lose the ball."
"They have a good dynamic in attack, they have creative movement. They have amazing players, they have a fantastic coach, and they have lots of good things.
"If you ask me one thing that I don't like a lot it's that they lose their balance very easily," the Portuguese coach explained. "You know, a little bit of wind and they fall."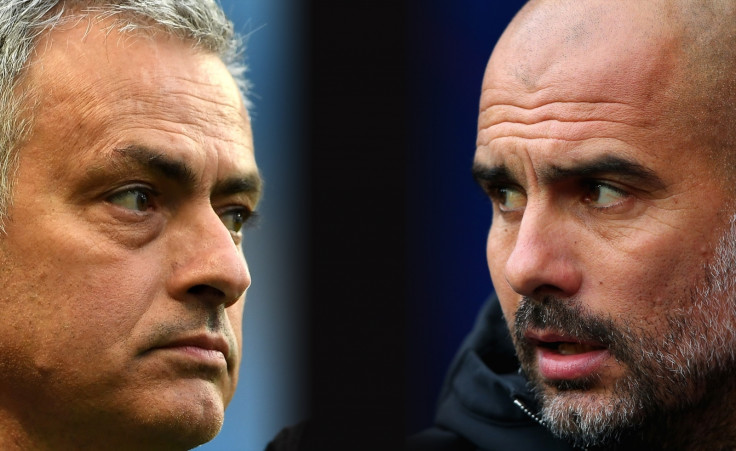 Mourinho, meanwhile, is going into the game against City without a few key players, namely Paul Pogba and Eric Bailly. The former Real and Chelsea coach confirmed that Zlatan Ibrahimovic, Phil Jones and Nemanja Matic are fit to play but Marouane Fellaini remains a doubt.
However, according to the Mirror, the Belgian has recovered from the knee injury that saw him miss the last three games and is in contention to start the game against Guardiola's side. Mourinho is said to be keen to include him from the start to make up for the lack of physical presence in midfield owing to Pogba's suspension.