Manchester United are reportedly in the race to secure the services of wantaway Real Madrid star Alvaro Morata. Cadena Ser claimsChelsea are also interested in the Spaniard, but Jose Mourinho has personally called the striker in order to lure him to Old Trafford.
The 24-year-old star returned to Real Madrid from Juventus last summer after the La Liga giants activated a €30m (£25.4m, $32.6m) buy-back clause inserted in his 2014 sale to the Serie A outfit.
The Spaniard has scored 17 goals since returning but is understood to be keen to move on this summer due to manager Zinedine Zidane's preference for Karim Benzema in attack.
Morata revealed in September that Antonio Conte had tried to secure him at Chelsea during the summer and Cadena Ser recently reported the Chelsea boss is planning to make a new move for his services ahead of the 2017-18 campaign.
Earlier this month the Real Madrid star added more fuel to the fire after revealing that he would love to work with the Chelsea boss in the future. The Italian played a big role in his move to Juventus in 2014 – although they never worked together as the Chelsea boss resigned from his post with La Vecchia Signora just days later.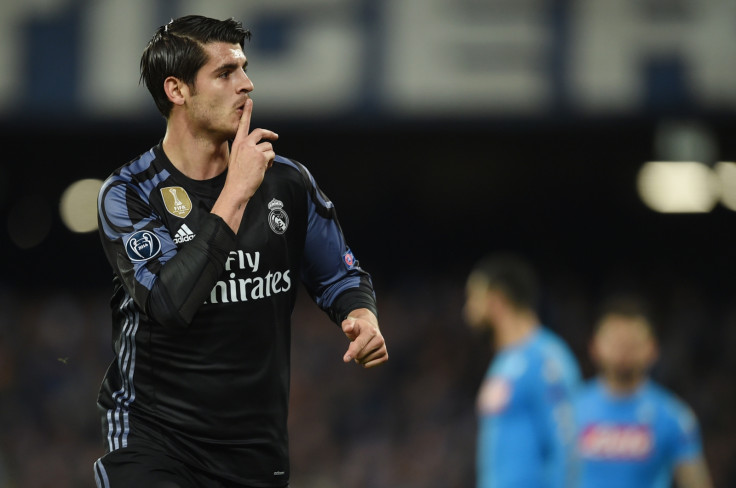 Asked by The Guardian whether he would consider a move to English football in the summer, he said: "I'm very happy at Madrid and they support me. But if an offer like that came again and they want to sell, I shouldn't close doors. I loved Italy but if one day I have to leave, I'm sure it will be to the Premier League."
Pressed about a potential move to work with the Chelsea boss, Morata added: "Conte is the manager who 'bet' on me, without even ever having had me in his team. I'm very conscious of that: he bet on me for Juventus but left before I arrived; then he wanted me at Chelsea come what may. He knows me better than I could imagine, I'm sure, and that's important: it motivates you to work hard, train well.
However, Cadena Ser now reports Chelsea face stiff competition for the Real Madrid ace as Manchester United manager Mourinho has personally called Morata with a lucrative proposal.
Mourinho handed Morata his Real Madrid debut at the age of 18 back in 2010 and the Spanish radio station says the Portuguese boss has earmarked his signing as a priority.
The news comes just days after Zlatan Ibrahimovic sustained a serious knee injury that has put his long-term future at Old Trafford into doubt.