Antonio Valencia and Ander Herrera have been passed fit for the crucial trip to Manchester City on Thursday night (27 April) as Manchester United look to keep the pressure on their neighbours in the race for the top four. Paul Pogba, Zlatan Ibrahimovic, Marcos Rojo, Juan Mata, Chris Smalling and Phil Jones will all miss the game due to different injury concerns.
United currently sit in fifth, only one point behind City, after securing a 2-0 win over Burnley at the weekend thanks to goals from Wayne Rooney and Anthony Martial.
Valencia was rested at Turf Moor as Jose Mourinho made a number of changes in his line-up in to keep some legs fresh following Thursday's Europa League win over Anderlecht.
Herrera and Pogba started in the middle of the park and both set alarms bells ringing ahead of the Manchester derby after suffering injury scares, with the France international forced off and replaced by Michael Carrick late in the game.
Mourinho has delivered mixed news in the press conference ahead of the game, confirming that Valencia is ready to return his line-up to face City.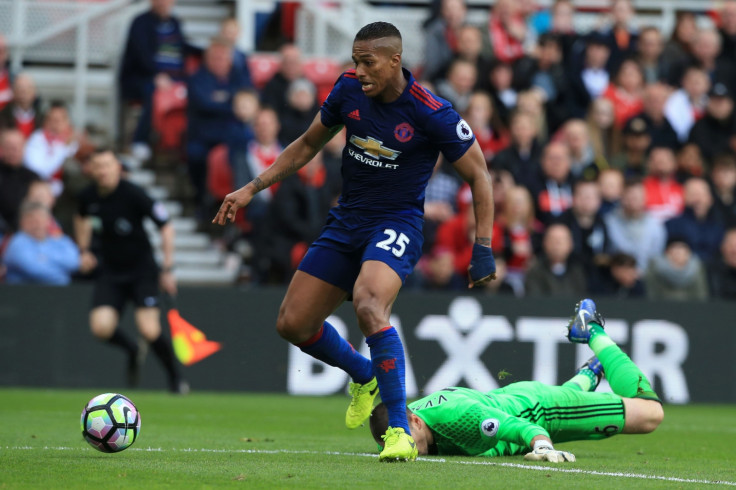 Asked whether and Pogba and Herrera are available, the boss replied: "Paul, no. Herrera, yes."
Ibrahimovic, Rojo, Mata, Smalling and Jones also remains on the sidelines but Mourinho trusts in the rest of his players to cope with their absences.
"We go with what we have and we fight with what we have," Mourinho said. "I trust the boys and we go with everything we have until the last second of the season, we hope. We are fighters, the boys are fighters, and we go."
Ibrahimovic and Rojo are expected to miss the remainder of the season after both players suffered serious knee injuries against Anderlecht.
The situation has put the future of the 35-year-old striker into question but Mourinho has encouraged him to fight and return stronger.
"The future is a big surgery and a long period of recovering. But the future is also in the hands of a very strong guy, mentally very strong, who wrote immediately on social media that he will stop [playing] when he wants, not when people think," Mourinho said.
"It looks for me that he's not going to give up and he's going to fight. I'm really pleased with that because this is the Zlatan I know. He fought all his life and that's what I told him - 'you have fought all your life since you were born.' I don't see a reason not to fight."
"We think he is in fabulous hands and [he needs to] recover from the injury and prepare himself mentally for the next step. I think the next step will always be something that he really wants, which is something I was saying before the injury in the period of doubt about his future; I have always said that.
"He is much more important than myself and what I want, it's what he wants. I always want the players to be happy and to choose their future, and this is what I think is going to happen. Now, before such an important surgery, I think it's a waste of time to speak about what's next."