Outgoing Real Madrid boss José Mourinho has confirmed his return to Chelsea. The 50-year-old Portuguese boss spoke to Spanish television after his final game in charge of the Santiago Bernabeu club this weekend; Madrid beat Osasuna 4-2 at home, with goals from Gonzalo Higuain, Karim Benzema and Jose Callejon leading the way.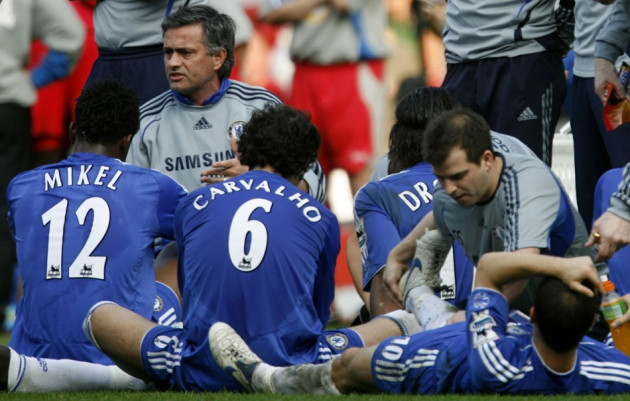 "I'm going to London on Monday and at the end of the week I will be the manager of Chelsea," Mourinho told Punto Pelota, "I feel the people there love me and in life you have to look for that. Life is beautiful and short and you must look for what you think is best for you."
And according to the Guardian, the former Inter Milan and Porto boss has done just that. It is understood Mourinho has been seen at Heathrow, with photographs of his arrival on social networking websites like Twitter.
Chelsea have refused to officially comment on the matter but more hints that a deal has been agreed to bring the Special One back to west London were revealed over the weekend, after an error by the Premier League's official website.
The BBC states a report confirming Mourinho's appointment at Stamford Bridge was posted on the Premier League's official website on Sunday, with Monday's date. The report ran: "Portuguese coach is back at Stamford Bridge after signing a xx-year contract" and "Jose Mourinho returns for second stint as Chelsea manager. Portuguese signs x-year-deal".
The incorrect report was later removed and the BBC quoted a Premier League spokesperson as saying: "It was a publishing error. We took it down as soon as we were notified of it. We've apologised to Chelsea".
Meanwhile, according to Sky Sports, Madrid president Florentino Perez (who was re-elected, unopposed, on Sunday) has reportedly confirmed his former manager is set to return to Chelsea.
Mourinho Receives Carvalho Backing
Former Portugal international centre-back Ricardo Carvalho has backed Mourinho's return and claims his former manager will lead the Blues to the Premier League title. The 35-year-old was one of Mourinho's first signings when he took charge of Madrid in 2010.
"I am certain that Jose can bring the good times back for them," he told The Sun, adding, "He did it when we first went there in 2004 and he will do it again this time. He is always successful. He is a special coach and always works hard."
"It's important for them to win the Premier League again and, with Jose in charge, they will do it. I'm sure in two, three years they can but even in his first year he can win it again," he concluded.
Carvalho's own future with Madrid is uncertain. The veteran defender is likely to be one of several released this summer, as the nine-time European champions look to rebuild for next year.