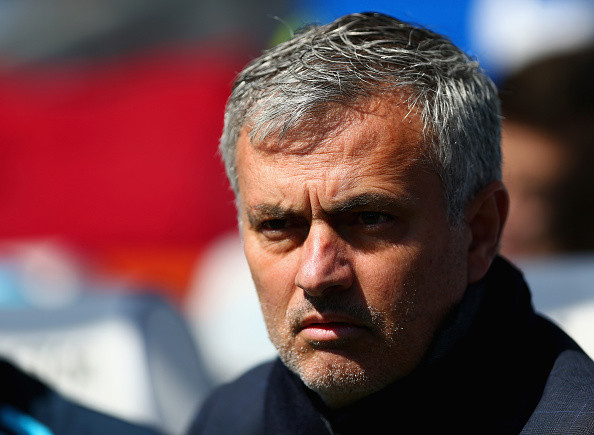 Chelsea manager Jose Mourinho denied his squad took four days off to celebrate the Premier League title with three games remaining and says they are determined to beat Liverpool in the first of those on Sunday 10 May.
The Blues secured the trophy with three games left in the season after beating 1-0 Crystal Palace on Sunday 3 May.
Some have suggested that the Chelsea players have decided to take an early holiday and will not play at their best against Liverpool who are in a crucial battle with Manchester United for Champions League qualification spot.
But Mourinho says United supports can be assured the Blues will try to beat Brendan Rodger's side and even West Bromwich and Sunderland in their following games in order to reach the 90 point mark.
"Liverpool need points, Sunderland needs points, West Brom are in a situation without need for points -- but we want to win all three. We want to win our matches, we have three difficult games. We don't need to win but we want to try to win points. For many months we had no defeats but I can't do anything. I can just enjoy the title, which is the most important thing. To reach 90 points would be a beautiful number," Mourinho said.
The Portuguese boss said his team have not taken any break just yet.
"It's not true. I work like people who make suits for measure. In here we take care of people like we are making tailor-made suits," the boss said.
"Players who have played a lot need different suit to those who have had injuries. Some had two days off, some three some four some working on Monday. This is what we have done all season and had players with few injuries."
Meanwhile, Mourinho revealed that Diego Costa is keen to return to action against Liverpool but, having missed games due to a hamstring injury, the manager is yet to make a decision on whether to risk him or not.
"Diego wants to play but I will protect him all the way. We need to find a balance between the risk and the desire," he said.
Mourinho also explained that Oscar has been ruled out of the Copa America due to a severe problem in the quadriceps.
"It's so severe that he won't be going to the Copa America. It's an injury... which takes more than a month to mend," he said. "It will be six weeks, which takes him out of the Copa America. We spoke with Dunga and he made the normal decision that it's impossible to do it, so he can't go."
When asked about reports claiming he is set to commit his future to Stamford Bridge with a new lucrative deal until 2020, he said: "I'm not asking for a new contract, a better contract, I'm very calm. If the owner wants me to stay, I'm staying."