Juventus have rejected a formal bid of €80m (£58m, $89m) from Barcelona to secure the services of Chelsea and Manchester United target Paul Pogba, reports in Italy claim.
After breaking the bank to signing Neymar and former Liverpool star Luis Suarez during the last two summer transfer windows, the Spanish giants have earmarked the coveted France international as their next marquee addition.
And even though the Catalans are unable to make any signings this summer due to a Fifa transfer ban, they are already working to iron out a deal for Pogba – either for the next January transfer window or the summer of 2016 – as they are aware of the competition to secure his services.
Paris Saint-Germain have also reportedly earmarked him as a top priority for the summer, while both Chelsea and United have been heavily linked with his services in recent months, with the midfielder's agent Mino Raiola recently suggesting the Frenchman will be open to return to Old Trafford after leaving in 2012.
Barcelona international sporting director Ariedo Braida recently confirmed the Catalans will also be in the battle to secure his services.
"We like Pogba, a lot. But it is obvious because a champion like him is liked but every European clubs. [Signing him ahead of the January transfer window] is one hypothesis, but everything depends on the will of the directors at Barcelona and equally, what the coach Luis Enrique thinks. I wait for instructions from my club and while I wait, I work and test the ground," Braida admitted.
And TuttoSport reports Barcelona's bid for the ex-United player was instantly rejected by the Italian giants.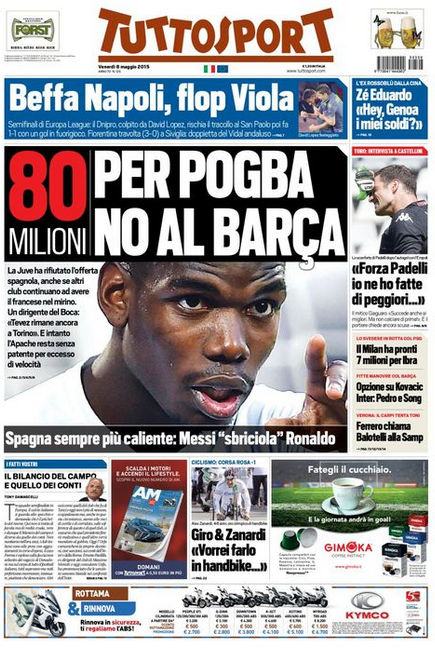 The Italian newspaper claims the Catalans want Pogba to join them in the summer of 2016 and in order to beat other suitors, they have offered to pay Juventus €40m now and €40m the following summer.
But Juventus are ready to take advantage of the number of suitors interested in the player and have asked for at least €100m to negotiate a potential deal.
Meanwhile, earlier in May, Neymar added fuel to the speculation regarding Pogba's potential move to the La Liga leaders, claiming the France international would be more than welcome at the Camp Nou.
He said: "How he would fit, I don't know but he is a great player and we would open the gates for him. He is a great star. He is still young, even younger than me I think, but I think a player with such quality is always welcome."