Jose Mourinho has hinted that Andreas Pereira's expected loan move to Granada could be the Manchester United's final business of the summer transfer window. The Portuguese boss predicts that nobody else will arrive at or leave Old Trafford before deadline day – but reiterated it "is very difficult" to imagine Bastian Schweinsteiger will play for the Red Devils again.
The former Chelsea boss has made four additions to the squad he inherited from Louis van Gaal, in Eric Bailly, Zlatan Ibrahimovic, Henrikh Mkhitaryan and Paul Pogba. Meanwhile, United have overseen the departures of some youngsters like Adnan Januzaj, Paddy McNair, Donald Love, James Wilson, Cameron Borthwick-Jackson or Tyler Blackett either on loan or on a permanent basis in order to give Mourinho a 23-man squad to work with.
Some reports have claimed in recent days that Mourinho is still keen on bolstering his defence further with the likes of Monaco right-back Fabinho or Southampton star Jose Fonte. However, the boss has suggested that he doesn't expect any ins or outs before the end of the transfer window as he is more than happy with his current squad.
"I have 23 players in the squad and in principle there is nobody leaving and nobody is coming," Mourinho said in a press conference ahead of the game with Hull City. "Twenty-three players is more than enough and, if you have a problem or an opportunity, then I have a few young players in the Academy that I will be more than happy to give an acceleration in their process.
"I think we are going to have a very quiet week, not surrounded by helicopters waiting for someone to arrive or leave – I am more than happy with the squad I have."
The boss did confirm that Brazilian starlet Pereira is set to move on loan to Granada to continue his development.
"I love Andreas Pereira as a player and I would love to have him in my squad," said Mourinho . "But he will go to Granada."
The 20-year-old will way follow the footsteps of other youngsters like Borthwick-Jackson, who was sent on loan to Wolverhampton to continue his development.
"I like Cameron Borthwick-Jackson very much but he will go to Wolverhampton to play [on loan] because I have Luke Shaw, Marcos Rojo and Daley Blind to play left-back. These are the kind of decisions every club makes," Mourinho said when asked about the departure of the young full-back.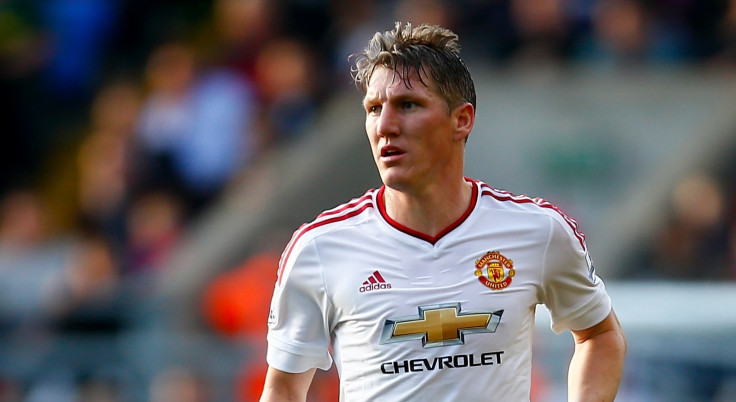 Schweinsteiger's long-term future at the club looks more unlikely, though. The Germany international recently ruled out a move to another European side but Mourinho has now insisted that the midfielder is also going to struggle to get a place in his plans.
"It is very difficult. Not impossible. But we have a decision completely made about Pogba, Herrera, Schneiderlin, Fellaini, Carrick. That is my five players for two positions," Mourinho said.
"I cannot answer for him. It is his life and career he has right to make that decision and that is not a problem for us. He is not speaking a lot and gave his last statement, which he is completely free to do in an objective and polite way. No problem. I thought after I read some quotes from Bayern Munich they would run to Manchester to bring him back. That did not happen. I am surprised Bayern chairman Karl-Heinz Rummenigge is not here now."