Eric Bailly's path from Africa to Manchester United has the plot of a Hollywood movie. Jose Mourinho's first signing at Old Trafford was just a child-playing kickabout in the streets of the Ivory Coast when the Red Devils last won the Champions League in 2008. He had already moved to Spain when Sir Alex Ferguson finally left the club in 2013, but was still some way off making his La Liga debut with Espanyol. That moment came a year later in a match with Real Sociedad. His route to the football elite has gone so fast it matches the speed little Eric used to run with when he stood over the rest of the boys in his native Abidjan.
Espanyol discovered Bailly in an X-Factor-style tournament for young African footballers organised by the company that currently represents him, Promoesport. With his impressive height, strength and speed, Los Periquitos wasted little time in snapping him up. His entry to the big-time was not so simple though, having to wait for his opportunity as he was still under 18. Further complications arose when, on a holiday return to his homeland, the Second Ivorian Civil War broke out. Government authorities held up his return to Spain.
However, the La Liga team were eventually able to get him back, and once he turned 18 he got his chance. Sergio Piña was manager of the team's youth side at the time, and was the first person who got to see the full impact of his talents.
"From the very first day I could see amazing potential in him," Piña recalled to IBTimes UK. "He was super-tough, over 1.85cm tall and performed stunning feats. He was very strong and also had some important technical skills, which have developed further over the years."
"The first season he alternated between the youth team and the second team, but in the following campaign he became indisputable in the B-team's back-line. He then moved into top gear and didn't look back until his move to Manchester United."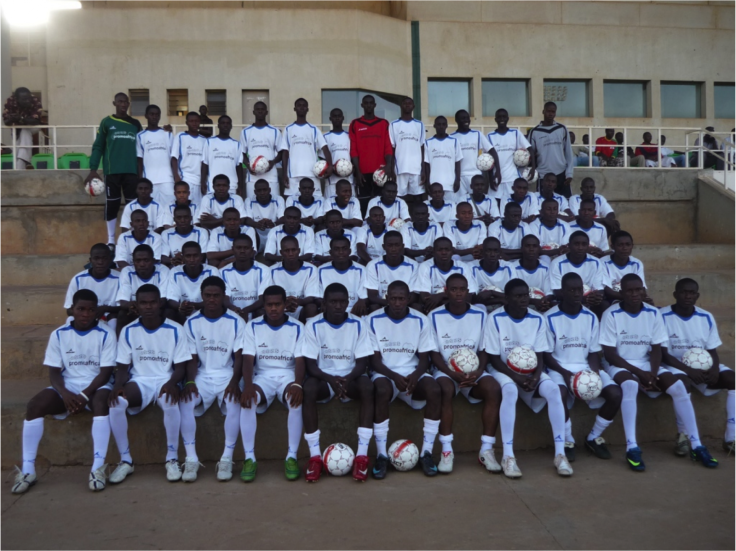 Espanyol midfielder Joan Jordan knew him better than anyone at the club. The pair were flatmates until Bailly moved to Villarreal and still now, despite the distance, consider each other best friends.
"Eric is a very nice guy," Jordan said to IBTimes UK."He comes from a very humble family. His parents are hard workers. His mother owns a clothing store and he is helping his brother to study in China as his family cannot afford it. He is shy at the beginning but when he gets confident he is a great guy."
The humble beginnings have made him work hard to be the best. However, Jordan believes that his innate talents have also helped.
"When he started playing for the youth side people were freaked out," he continued. "He was not normal. I knew that he was going to be whatever he wanted. He was physically a beast."
Bailly had the body to succeed, but needed the technical polish if he was going to become a top star.
"We analysed many videos together to help him learn the tactical concepts he lacked, but he learned very quickly due to his intelligence," his first manager at Espanyol added. "That's why he has been able adapt to every situation and every role. His original position was at the heart of the defence, but this season Marcelino deployed him as a right-back against Real Madrid and he absolutely shut Cristiano Ronaldo down. He has spectacular conditioning. His lower body is so powerful that he always arrive to the cross ahead of the forward."
Jordan also recalled how his pal stopped the three-time Ballon d'Or-winner dead in his tracks as Villarreal beat Real Madrid 1-0. "Cristiano Ronaldo barely touch the ball," the Espanyol star reminisced. "Eric was so good in defence that a couple of times he even went upfield and made some fancy dribbles. I think Marcelino used him on the flanks on purpose to stop Ronaldo because he knows what he is capable of."
Bailly's star-making performance against CR7 was only his 30th appearance in the top flight. Barely a year before he was still waiting for his opportunity to break through into the Espanyol first team. He got his chance when Hector Moreno, now at PSV, suffered a long-term injury in the 2014 World Cup. The Mexican star's injury set alarm bells ringing for Espanyol fans but the first-team coach at the time, Sergio Gonzalez, told supporters he had found a replacement in his academy.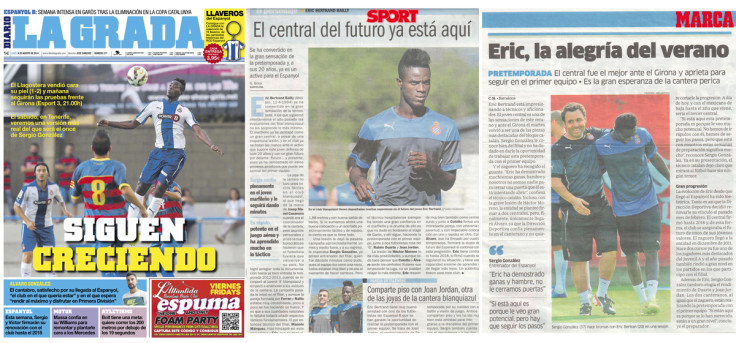 Although Espanyol did not want to rush Bailly, he forced the issue with an explosive pre-season that saw him named man of the match in a friendly against Girona. He made five star appearances for the Catalan side in the opening part of La Liga, and in January travelled to the Africa Cup of Nations to help his team become champions. He played a crucial role alongside the likes of Wilfried Bony and Yaya Toure, even stepping up to score in the penalty shootout in the final against Ghana.
It's at this point Villarreal enter the picture, stumping up around €5.7m for a percentage of the player – Promoesport kept some of the rights – to fill the gap left by the departure of Gabriel Paulista to Arsenal. Some questioned if a youngster with just five top-flight appearances was ready for the step-up, but the deal has paid off in spades. Just 18 months later, United have forked out €35 – plus €5m in add-ons – for his signature, making him Villarreal's record fee received.
The figure may have surprised some, but not his friends in the team. His Villarreal teammate Nahuel said to IBTimes UK: "I can't talk about figures but I know he will be a big loss for us. He has everything a top star needs. He is physically powerfully, very fast... he is a complete product. We knew hew as destined to play for one of the best teams in the world, and his dream has now been fulfilled.
"We are delighted for him. He was a very well-liked player in the dressing room. He has only been here 18 months but he has won us all over with his character. He talks to everyone and always has a smile on his face. It will be a big loss for us, but he deserves it. When a team like United call, you cannot say 'no'."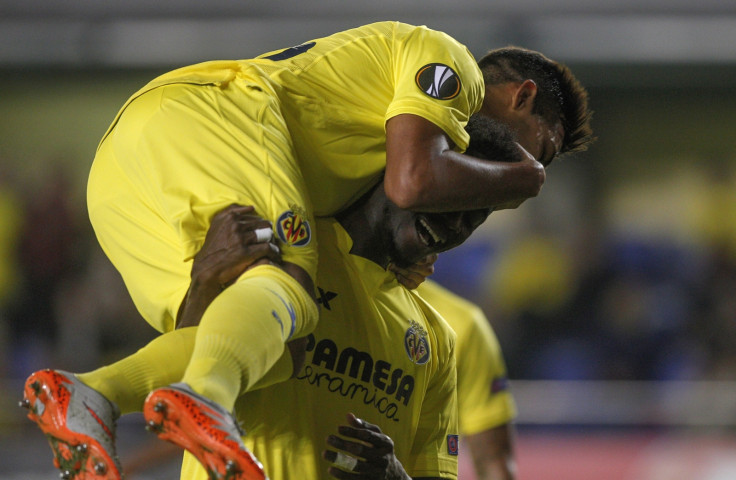 Jordan was one of the first to call Bailly to congratulate him on the move. He says he always knew that his friend would end up playing for one of Europe's top teams.
"When the announcement [over his move to United] was made I called him and said: 'Mate, four years ago you didn't even had the paperwork to play [in Spain]!' I am delighted," the Espanyol midfielder admitted. "The Premier League was his dream. I knew about the rumours, but he wanted to focus on Villarreal and only told to his best friends about possible moves. Another three or four big European clubs were also interested."
La Liga winners Barcelona and Borussia Dortmund are understood to have been those clubs. Piña is not surprised as he feels with Villarreal last season Bailly already proved himself to be one of the top defenders out there.
"His aerial power is spectacular. It is almost impossible for a rival to overcome him. I think that his style will fit really well with the pace of the Premier League, because in that aspect he is already among the top five centre-backs in Europe," his first manager at Espanyol recalled.
Jordan revealed that Bailly's inspiration is Sergio Ramos, with the Ivory Coast defender hoping one day to emulate the Real Madrid captain by winning the Champions League with United, as the Spaniard recently did with Los Blancos.
"Ramos is his role model. Eric likes him a lot because of his courage. He has similarities with him because his favoured position is also as a centre-back on the left side. But I wouldn't compare Bailly with him. Eric is a special player. I think right now there are few players with his profile. He will be the centre-back of the moment in a matter of time. He is young, physically brutal, goes well to the cross and always arrives before his rival to the ball thanks to his pace."
Nahuel believes Bailly has a lot in common with the Real Madrid star. The Villarreal winger added: "He is very similar to Ramos. He has the same style. The only difference is the age, but I think in three or four years Bailly will reach Ramos's level."
Piña added: "Eric is a combination of several elite centre-backs. If we compare him with other La Liga players I would say that he has the power and the physical conditioning of Ramos but the intelligence of Javier Mascherano. And he is even bigger and taller than Ramos.
"His ability to shape the game from the back is good. He is still 22, so he may not have the composure of a veteran defender yet, but in a matter of time he will reach it. He has played only two seasons at the top level. He went from Espanyol, a team fighting for their safety, to a top European club like Villarreal and he passed all tests with outstanding honours. He is the kind of player that grows with the big challenges and he will do that at Old Trafford."
Mourinho signed Raphael Varane and Kurt Zouma at a similar age during his time at Real Madrid and Chelsea respectively, helping turn them into top stars. Bailly's friends believes that working with the Portuguese boss will be the final step before he becomes one of the true greats.
"Mourinho will turn him into one of the best," Piña said. "He will make him a better player because Mourinho will enrich him tactically. He still has room for improvement and moving from La Liga to the Premier League will sharpen his wits. In English football he will need to be on alert every second because the rhythm is very high, and Mourinho will help him to do that. "
Jordan added: "He needed to improve his aerial ability when he arrived at Espanyol, but now he is one of the best at that. With the ups and downs he is also number one. Now he only has one thing to improve: his overconfidence. He is so good that sometimes he makes mistakes because he gets caught off-guard. He has been improving in that over the years but I think Mourinho will correct that and turn him into the best centre-back of the future."
Those words may not be the most objective, coming from his pals. But United fans should have enough reasons to believe they have finally have a man who can cover the huge gap left by Rio Ferdinand in their defence. Bailly's steps to now could not be any more promising, and it is only necessary to look at other centre-backs to have emerged from Villarreal in recent years, such as Diego Godin and Matteo Musacchio, to see that Jordan, Nauel and Piña's words have a lot of reasons for United fans to believe.