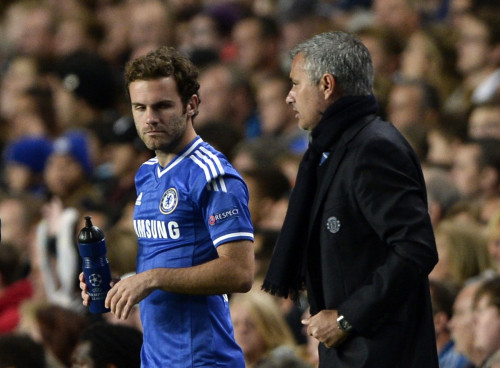 Chelsea boss Jose Mourinho says Juan Mata's desire to join Manchester United motivated his move to the Premier League champions.
The 25 year old will undergo a medical on Friday ahead of joining United for a club record fee after having a peripheral role at Stamford Bridge since Mourinho's return to west London.
Despite allowing Mata to join a perceived rival for the Premier League title in future seasons, Mourinho refused to deny the Spanish international a "fantastic" opportunity at Old Trafford.
"Things are going in a good direction," said Mourinho. "We allowed Juan to travel to have the medical with United. I think to Manchester. And things are going in the right direction sooner rather than late thing will be done.
"I think this club is a special club and this club cares for people and this club is very respectful of the players and with players who bring the history and Juan is one of these.
"I think he can still be important for us because he is a fantastic player and in spite of not playing in the last period he would be very important
"But Juan had this fantastic opportunity for him. Another big club wants him in a county he loves to be in and loves to play in.
"With an offer that is the right offer for us so in spite of probably many clubs many boards and many mangers thinking that not a top player to a rival club especially to the same country you play we feel and we think different.
"We want the player to be happy. The offer is what we consider the right offer for the quality of the player, we want him to go to them and we didn't close the door."
Mata is expected to join United for fee worth in the region of £37m, smashing the club's transfer record in a January transfer window during which David Moyes has been pressured to overhaul his squad.
And Mourinho admitted that with Mata stating a desire to leave Chelsea, the fee offered from United matched their valuation.
"It's a good offer," the Portuguese boss added. "I don't want emphasise one less million but it's a good offer. Because of the value of the player and that allows trying and bringing another player in.
"We need another player and still have a fantastic response to the investment made with Juan. And with the two deals and Juan and Kevin de Bruyne we put ourselves in a very good position for Financial Fair Play.
"I asked him when the offer came. I asked him 'are you really happy to go and he was saying yes I am really happy to go'.
"After that we could feel mixed emotions and we are happy he goes to a fantastic situation but at the same time we are sad. I think for him he is the same. He is happy to go to Manchester United.
"He guarantees he is going to play and be an important player for them. We decided not to stop him. It is good for Juan and the Premier League and the offer is the right offer.
"Clubs are not just football clubs they are a business. The offer compared to what the club paid two years ago it is fantastic.
"He was fantastic for Chelsea and Chelsea was fantastic for him. We are not afraid of him going to Untied. We want him to go there and be happy and do well for Man United."