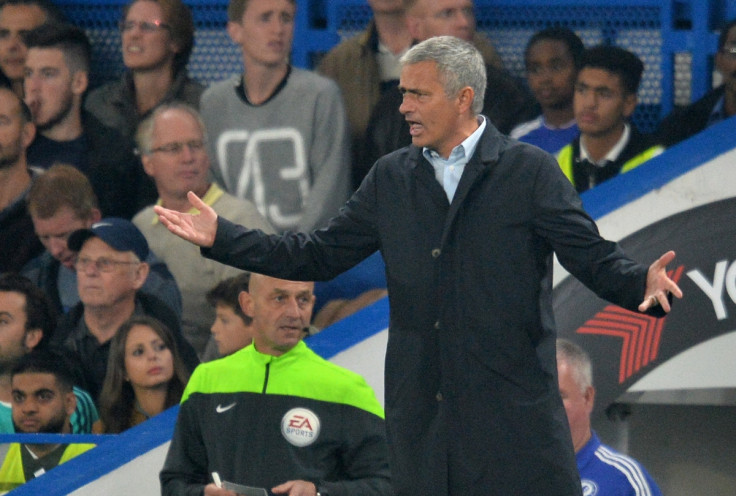 Chelsea manager Jose Mourinho has admitted the Blues' start to the season has been "very cruel" but is confident they can turn the situation around in a couple of months, starting with a win over Aston Villa on Saturday 17 October. Meanwhile, the Portuguese boss has revealed he is going to appeal the Football Association's latest fine and has refused to rule out a potential future as England national boss despite his struggles with the FA.
The Premier League champions are in desperate need of victory against Villa, having secured just eight points in the first eight games of the campaign, with them sat 16th in the table, 10 points behind leaders Manchester City. "Every game is a must-win for different reasons," Mourinho said. "In my approach every game is a must-win and when we don't win it's always a disappointment or frustration.
"We cannot run away from the reality of the Premier League table. Obviously we know we will not be relegated, we know that in a couple of months we will be in a position where we normally have to be, but the reality now, today, tomorrow and before the game starts is the reality of the numbers, and the numbers are very cruel but objective. We need points."
Mourinho admitted following the Southampton defeat that he was struggling to find an explanation for their poor form. He kept a close eye on his players during the international matches to try and find the answer.
"One of the reasons why we paid such special attention to these two national team fixtures was to try to understand things," he said. "With the first fixtures, I watched every match involving my players, some live and some later. In the second fixture I went to the Spanish game, Silvinho went to Serbia, Jose went to Belgium, Rui controlled South America and Steve was with the FA, the England Under-21s.
"What I analysed in this period was that no player was better in the national team than they are with us, so it's not their habitat which is making them play better or worse. At this moment they are what they are, which gives me total confidence that it will be here that we will improve them and they will go back to their normality."
Mourinho, meanwhile, has claimed he is going to appeal the FA's decision to hand him a suspended one-match ban and a £50,000 fine for criticising the referee during Chelsea's 3-1 defeat to Southampton. "In the moment we received the written reasons, I decided to appeal," the manager confirmed. "Now the moment is to stop with my opinions and not to add anything more to what I've said already."
Asked if his current relationship with the FA may harm his aspirations to one day manage England, he said: "Maybe I am naive, and I know that 'naive' I can use. But, for me, English football and English football fans, the English passion for the game, what makes me like so much this country and the football in this country, is not the FA. It's the people. It's the people. If, one day, I have to work for that people, I will."