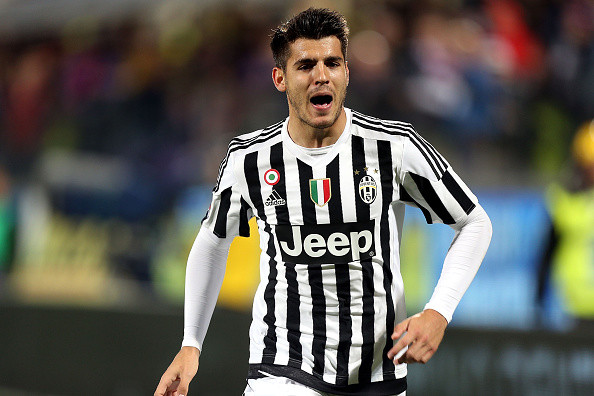 Alvaro Morata's transfer saga is set to rumble on with Marca reporting that Manchester United have joined the race to secure the services of the coveted striker. The Spanish publication claims that Jose Mourinho is ready to offer over €60m (£47m, $68.2m) for Morata as he competes with his former side Chelsea, Arsenal and Paris Saint Germain for his signature.
The 23-year-old striker has become one of the most sought-after players in the summer transfer market after it emerged Real Madrid was ready to activate a €30m clause to lure him back from Juventus but only to sell him for an instant profit.
Arsenal looked like the main candidates to get Morata after Arsene Wenger failed to sign him two years ago when he joined Juventus. The French boss reportedly refused to accept Real Madrid's condition to insert a buy-back option in the deal.
His rumoured move to the Gunners has come under scrutiny in recent days after it emerged Wenger was on the verge of signing Jamie Vardy from Leicester City.
AS has also carried reports Chelsea were the new front runners in the hunt for Morata after pointing out that Antonio Conte recruited him for Juventus - although the Italian did not eventually coach the player as he resigned from his post at La Vecchia Signora just days later.
But one of the biggest Spanish publications, Marca, now claims that Mourinho is ready to beat other suitors for his services with an offer worth more than €60m.
The paper reports the former Chelsea boss plans to sign both Zlatan Ibrahimovic and Morata, in the hope that the 34-year-old Swede will make an instant impact at Old Trafford while expecting the Spaniard to adapt to the Premier League's pace next season before proving his real worth in the long-term.
Mourinho was the manager who gave Morata his Real Madrid first team debut at the age of 18 in a 3-1 victory over Zaragoza in 2010.
Last year, the Spaniard voiced his appreciation for the opportunity saying: "Mourinho could have chosen some other player, but he chose me and I'll be grateful to him for the rest of my life."