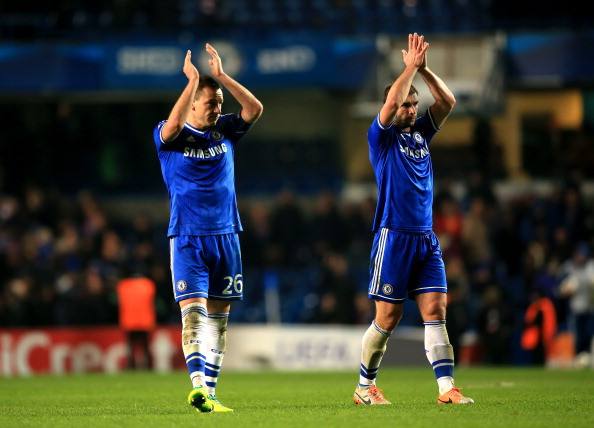 Jose Mourinho has reported that Loic Remy, Oscar and Radamel Falcao have all reacted well to being dropped from the squad for the Champions League loss against Porto, saying he has "no prima donnas" in the Chelsea dressing room. Mourinho also refused to confirm if John Terry would return to his first team for the match against Southampton, while backing much-criticised right-back Branislav Ivanovic.
Mourinho left the trio in London for the match, while also omitting Eden Hazard and Nemanja Matic from his starting line-up — increasing speculation about poor relations between him and his first team squad.
But asked about this decision in a press conference ahead of the game against the Saints, he said "I don't see [problems]. We are a group. We communicate."
"Every player has the ambition to play. Every player respects each other. Every player wants to play and is not happy when he is not, but every player is respectful to me and, even more importantly, to the other players. Everyone supports each other. Great behaviour by everyone. So, we're alive. I was told by my assistant who stayed in London and didn't travel that on Tuesday [Oscar, Remy and Falcao] worked fantastically well.
"That was the first reaction. They could have stayed here and not shown motivation but, because they knew they could be selected for the next match, they worked very hard and well on the Tuesday."
Speaking about his relationship with Ivanovic, who has been blamed in many quarters for Chelsea's defensive woes at the start of the new season, Mourinho admitted mistakes but says he is still the best right-back in the squad.
"Well, that's something I speak about with Ivanovic. Ivanovic likes to speak with me, and Ivanovic likes to speak with me about his mistakes, and is not crying. He's not crying, he's not a prima donna and I'm critical with him. We speak about what he has to do to try and improve. I have no doubts he is my best right-back, and that he has to improve in some aspects of his game this season. Simple as that."
The Portuguese boss has shown less patience with John Terry, however, opting to use Kurt Zouma in central defence instead. Despite fan's questioning this move, Mourinho remains staunch: "The fans can sing and I'm happy they sing and support John."
"It's more important they support John when he's not playing than when he is playing. When he is playing he is on a high so he doesn't need that support. He is ready every game to play. Even the ones I leave him on the bench. I don't tell the team."
Mourinho, nevertheless, insists that his relationship with his captain and the rest of the squad remains good, despite Chelsea's horrifying start to their campaign.
"In here we speak openly. You did that, you could to that, you could help your mate, I did that mistake but you could do a bit better to compensate for my mistake," Mourinho insisted. "We communicate openly. No prima donnas crying. Everyone wants to do well and accepts the criticisms, knows the job and knows what let the team down.
"When you make mistakes you have to speak about it. You know what I call that? In football? 'Coaching'. Coaching. If the coach cannot coach, go to a newspaper where nobody criticises anybody. We speak about it. We speak about it. If it happens in the first half, we speak after half-time. In the second half, we speak the next day. Never after the game. Never."
"It's not easy to do that when the team is playing and you're not with them, but they found that motivation. So fantastic. Then, in the last few days, normal business, working well. With me, everyone is working well."