For the second time in his career, Jose Mourinho has left Chelsea. His strained relationship with the first-team squad reached the point of no return following a 2-1 defeat to Leicester City on 14 December, when he attacked his players for betraying him. Roman Abramovich was left with little choice but to pull the trigger.
Chelsea can't afford to waste any time in naming a short-term replacement, with Guus Hiddink reportedly on the brink of signing a contract at Stamford Bridge. But what about Jose? IBTimes UK considers where the 52-year-old can go from here.
Take a sabbatical
Managers ploughing through two decades in the job without a break are a thing of the past. In a trend started by Pep Guardiola when he left Barcelona in 2012, a break from the game is now an de rigueur option for tacticians, particularly those at the top of the game. Carlo Ancelotti made the same decision when he was relieved of his duties at Real Madrid last summer and has been insistent he will take a full year out before returning – with Bayern Munich now his likely destination.
Mourinho's hunger for the game means he hasn't really taken a break since taking over at Benfica in September 2000. After leaving Chelsea in September 2007, he was out of the game for nine months before officially taking over at Inter Milan, but a longer period to recharge his batteries could be a tempting option.
Real Madrid
Mourinho's acrimonious departure from the Santiago Bernabeu was welcomed by many Madridistas and also some key members of the dressing room. But he retained one major ally: club president Florentino Perez. According to another former president in Ramon Calderon, Mourinho's sacking is the best possible news Perez could hear. The current Real chief has inevitably been quizzed on the possibility of the manager returning for a second stint in the Spanish capital. He told Cadena Ser "nobody can predict the future," buteffectively ruled out an imminent arrival, reiterating his faith in current gaffer Rafa Benitez.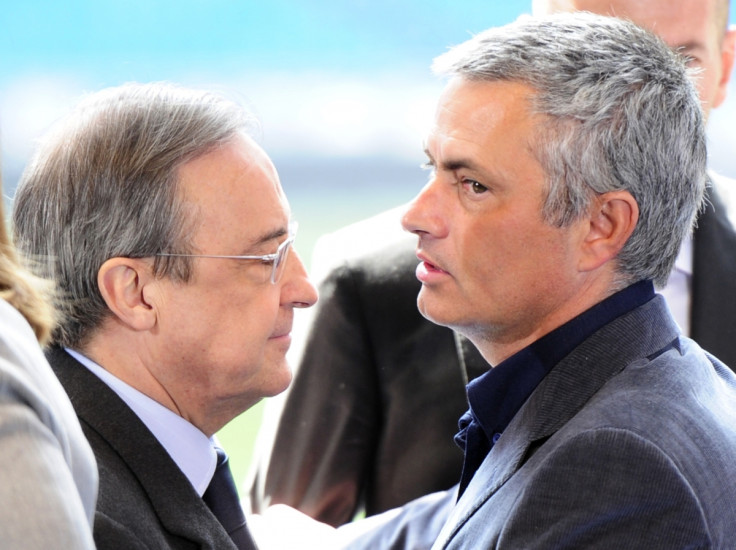 Manchester United
Many thought Mourinho's grand return to the Premier League in 2013 would be in Manchester. Following Sir Alex Ferguson's retirement, the Portuguese coach was tipped to take over at Old Trafford, but instead David Moyes was handed the role.
Ferguson later revealed in his book Leading that by the time United sounded out the possibility of the then Real Madrid boss taking over, he had already given his word to Roman Abramovich that he would return to West London. The Red Devils still haven't got things right since the legendary Scot left. With Louis van Gaal's position now uncertain, would Mourinho be the right solution?
Mourinho's brash, sometimes confrontational approach doesn't win him any favours, not least with United legend Sir Bobby Charlton, who still serves on the United board of directors. "A United manager wouldn't do that," Charlton said in disgust following the incident that saw Mourinho poke the late Tito Vilanova in the eye during a touchline clash in 2011. "He's a great manager but that's as far as I would go. He pontificates too much for my liking."
While he has since kept the eye-poking to a minimum, Mourinho still dominates the news agenda with his comments made to rival managers, match officials and anyone else who stumbles into his cross hairs. Would United, who still relentlessly cling to their own proud traditions, be ready to risk that with the ex-Chelsea boss?
Portugal
As the case is for most managers in world football, managing his country remains high on Mourinho's priority list. "I would love to be the national team coach one day. I think the Portuguese people are waiting for that to happen," he told RMC Sport in January 2013. That vacancy is likely to be filled until, at the earliest, after Euro 2016. Fernando Santos took the reins in September 2014 following Paulo Sousa's disappointing spell in charge and guided them through their Euro 2016 group campaign relatively untroubled, winning Group I by six clear points.
England
Portugal isn't the only national team job Mourinho has an interest in. In the same interview where he expressed his interest in managing his own country, he revealed that he nearly took the England job following Steve McClaren's dismissal before Fabio Capello's appointment.
"I can never say never [about managing England]. I had the opportunity to come here in 2006 or 2007," he said. "I was at Chelsea and I couldn't have said yes at the time. When they came back a second time, it was very difficult to say no."