Jose Mourinho says Chelsea have 'moral right' to make big money signings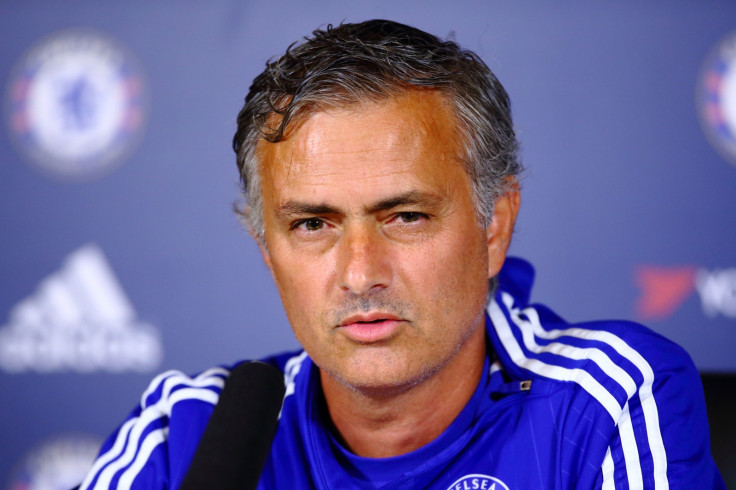 Chelsea manager Jose Mourinho says the club's role as Premier League champions and one of Europe's biggest sides gives them the "moral right" to spend big in the transfer market. The Blues have spent close to £900m on transfer since the takeover by owner Roman Abramovich, making them the biggest spenders on the continent during the Russian's 12-year spell in west London.
This summer Mourinho has been uncharacteristically inactive in the transfer market, adding just two senior players to his first team squad. Asmir Begovic has replaced Petr Cech while Radamel Falcao has come in for Didier Drogba. Brazilian youngster Nathan and Serbia Under-19 international Danilo Pantic have also arrived but neither player will be involved this term after both being loaned to Vitesse Arnhem.
The club's laissez-faire attitude in the market is set to change as the transfer window approaches its final two weeks. Baba Rahman is close to complete his move from Augsberg while Mourinho is hopeful Chelsea can making a further signing before the 1 September deadline.
"Chelsea is Chelsea and Mr Abramovich is Mr Abramovich," Mourinho said ahead of the trip to Manchester City, according to The Guardian. "The board has worked so well over the years in making money with sales that if somebody has the right – the moral right – to do that, then I say that Chelsea is one of them.
"You sell [Gaël] Kakuta to Sevilla for a few million, you sell [Oriol] Romeu to Southampton for some more millions. You sell another player to another club for £5m. Even then you are not speaking about David Luiz, Filipe Luís. If one day Chelsea wants to make a very important buy Chelsea has economical conditions for that and also moral conditions for that."
"If we have one new player or a couple of new players, [it's] welcome. Yes, it's a possibility. The market is open and you know that a defender we are going to do for sure."
Chelsea's inaction in the transfer window has been in stark contrast to their title rivals, who have all made marquee additions during the summer. Arsenal have acquired Cech from their London rivals, Manchester City have signed Raheem Sterling from Liverpool while Manchester United have made the eye-catching addition of Bastian Schweinsteiger from Bayern Munich.
As a result Mourinho believes that Chelsea's challenge to keep hold of their league title is harder than in some of the biggest leagues around Europe. He compares his side's situation to that of Bayern Munich and Paris Saint Germain, who are likely to cruise unopposed to another league title triumph this term.
"You win the Champions League, how many teams can react to the fact that they did not win the Champions League? A lot of them can react," he explained. "In the Premier League if you win the title, how many teams are able to react against that? A lot of them can react.
"You can go to Germany, how many teams can really react against Bayern Munich, how many teams are powerful enough to react against Bayern Munich's dominance? They've won three in a row and probably are going to win it for the fourth time. In France, how many teams can react against Paris St-Germain's power?
"Here, Man City won [in 2014] and Chelsea was not happy, Man United was not happy, Arsenal was not happy and Liverpool was not happy. Chelsea – Diego Costa, Fàbregas, Courtois. Arsenal – Alexis Sánchez, Özil. This season Chelsea are champions; Liverpool and Man United bought. Arsenal, Petr Cech. People react. Man City, the first thing they did in the summer was Sterling. Here and in the Champions League people react. It's more difficult to be champions."
© Copyright IBTimes 2023. All rights reserved.