Jose Mourinho sent ultimatum to Real Madrid before potential Manchester United move says Ramon Calderon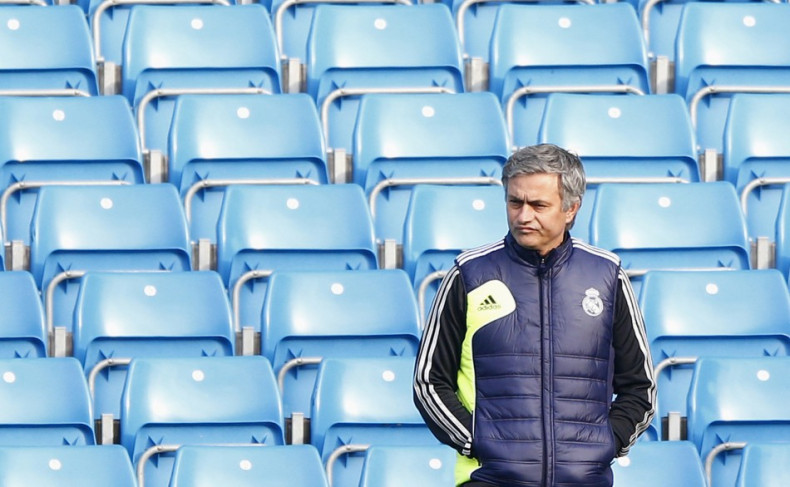 Former Chelsea manager Jose Mourinho has sent an ultimatum to Real Madrid to determine whether they are interested in his return to the Santiago Bernabeu to replace Rafael Benitez, according to ex-club president Ramon Calderon. The former chief claims the La Liga giants have asked the Portuguese boss to wait until January 2016 but says he wants an immediate response or will join Manchester United instead.
Earlier in December, Real Madrid president Florentino Perez refused to rule out the return of the Portuguese boss to the Bernabeu in the future but stated Benitez would not be going anywhere now, with him insisting the former Liverpool manager was the right man to turn around the fortunes of the club.
"Nobody can predict the future but right now he [Mourinho] is not going to come to Madrid because we have Benitez," Perez said to Spanish radio station Cadena Ser. "I have very good memories of Mourinho. He raised our competitive level [when he was manager] a lot.
"Before he arrived to the club, we had being eliminated from the Champions League in the last 16 of the competition. We were the number 13 in the Uefa ranking when he arrived and when he left we were the first. He led us three times to the Champions League semi-finals. We did not get to the finals because of bad luck. With him we returned to the right place."
Calderon last week claimed Mourinho's dismissal as Chelsea manager was just a step towards his return to the Bernabeu as he would be the perfect "shield" to take the pressure off under-fire president Perez, with some supporters calling for him to resign in recent games.
The former Real Madrid president has now has sparked the speculation via his Twitter account after claiming there have been recent discussions over that possibility between Mourinho and the Real Madrid president, while saying: "Mourinho has given an ultimatum to Perez. Or he [Perez] makes an imminent decision or he [Mourinho] will go to Manchester [United]. They [Real Madrid] have asked them to wait until January."
Reports in Spain claimed Benitez's position at the club was under increasing scrutiny following the defeat to Villarreal. The 10-2 victory over Rayo Vallecano during the weekend has postponed the debate but the games against Real Sociedad and Valencia could be crucial as far as his future at the Bernabeu is concerned.
Meanwhile, several reports in England have claimed United are considering bringing in Mourinho to take over from Louis van Gaal after the Premier League giants suffered three consecutive defeats – with The Sun claiming the deal between the club and the ex-Chelsea boss is agreed pending the final decision over the current manager.