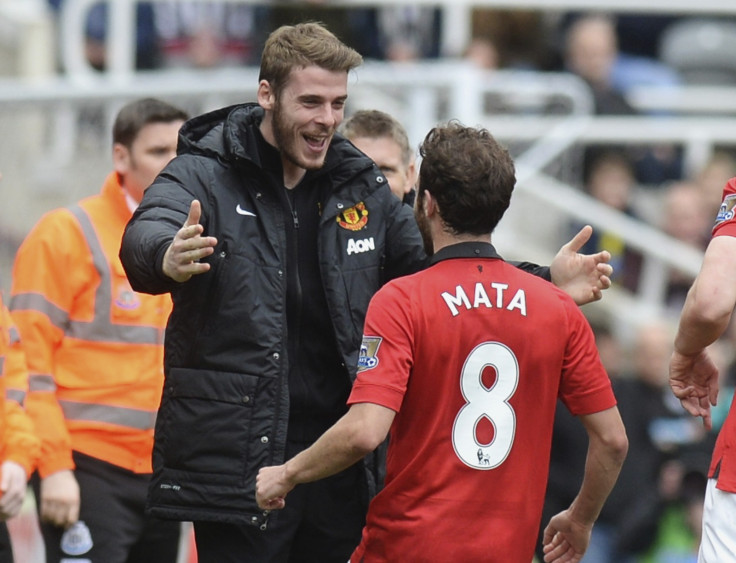 Manchester United playmaker Juan Mata hopes his friend David de Gea stays at Old Trafford despite the increasing speculations over a summer move to Real Madrid.
The Spanish keeper has been tipped as the main candidate to replace Iker Casillas at the Santiago Bernabeu in recent months, either at the end of the campaign or once his contract expires in summer 2016.
Louis van Gaal recently claimed United have made him a lucrative offer to commit his long-term future to the club but reports in Spain claimed that the keeper is yet to respond to the offer because, following Casillas's latest confrontation with Real Madrid supporters, De Gea is expected to join Los Blancos this summer.
Many pundits and United legends have claimed Van Gaal's priority this summer should be to keep De Gea at the club, even ahead of improving the current squad in the transfer window.
Asked about his compatriot's future at the Premier League giants, Mata told IBTimes UK: "I understand how importance he is for us".
"(In the last 2-1 victory) against Crystal Palace he proved it again with a save that gave us the three points. I wish him to stay. Being selfish, I obviously hopes him to remain with us. He gives us many points..."
And questioned about Real Madrid interest in securing his services, Mata responded: "I don't know. To be honest, I don't know. Ask him because I don't know."
Meanwhile, Mata has hailed the arrival of Memphis Depay after United confirmed the Netherlands international will join from PSV Eindhoven for around £22m ($34m) last week.
"I am happy about his signing," Mata said. "I think he eventually is more winger than me. I am sure he can to help us."
"He is a young player with a great future ahead and I hopes him to made a great contribution here. This club always try to sign the best players around the market."
The former Chelsea star had a difficult start to life under Van Gaal but has managed to become a crucial member of the United team during the second part of the campaign.
Indeed, the Spaniard scored his 10th goal of the campaign at Selhurst Park from the spot after being given penalty responsibility ahead of captain Wayne Rooney and Robin van Persie.
"I am very happy," he added. "We all have had different moments during the season. I am also happy with my goal against Palace because it was very important to get the Champions League qualification."