Juan Mata praises Victor Valdes after ex Barcelona star replaced David De Gea in Arsenal clash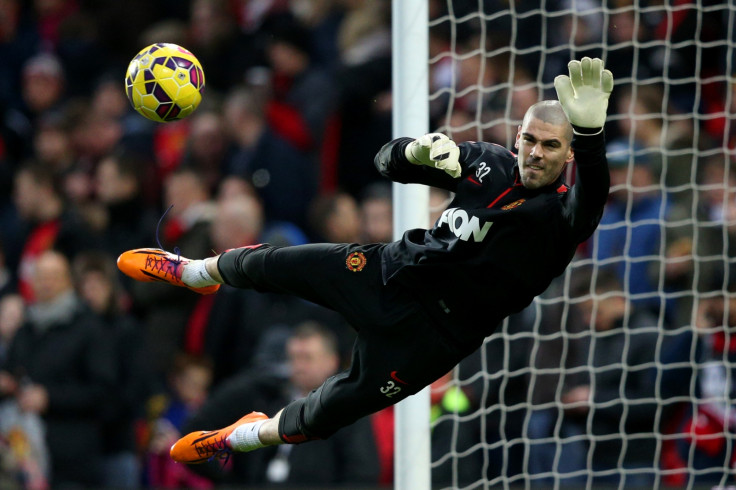 Manchester United playmaker Juan Mata has lavished praise on Victor Valdes after the former Barcelona number one made his debut for Louis van Gaal's side during the 1-1 draw against Arsenal to replace David de Gea.
Having won six La Liga titles and three Champions League crowns during his time at the Camp Nou, the 33-year-old keeper joined the Premier League giants as a free agent in January.
However, with De Gea firmly established between the Old Trafford sticks, his only appearances came with the Under 21 side.
But after De Gea suffered an injury during the second part of the game against the Gunners on Sunday (17 May), the Spaniard enjoyed his first minutes with United.
While De Gea's future at the Premier League giants is under increasing scrutiny amid his expected move to Real Madrid, Mata has claimed that having a keeper like Valdes is a "big help to any team".
"We had more bad news when David had to leave the pitch with an injury, which allowed Victor to make his debut as a Manchester United player," Mata wrote in his weekly blog.
"I hope David gets well soon and at the same time I wish Victor the best, always. A goalkeeper like him, so good and with so much experience, is always a big help to any team."
However, Mata expressed his frustration at being unable to secure three points against Arsenal in the final home game of the campaign in order to keep pushing for the Premier League third place.
"We couldn't beat Arsenal although I think we were the better team during most of the game. In the first half we had a very high performance, moving the ball quickly and pressing Arsenal in their half of the pitch. We didn't concede any chances for them to score. At half time we were ahead thanks to a good goal from my friend Ander Herrera," he said.
"After the break we had chances to score a second goal, but we missed them and they started to push to tie the game, which they did with a bit of luck. They are a team with a great attacking power as they showed in the last few minutes... Anyway, it was a pity. Apart from the chance to be third, we were looking forward to offer a win to our fans against such a big rival.
"Now we must finish the season in the best possible way. We owe it to this badge. Besides, we must respect the fight against relegation between Hull City, Newcastle and, maybe, Sunderland, so we will try to win, as always."
Mata also took advantage of his weekly blog to wish Steven Gerrard luck after the Liverpool captain played his last home game at Anfield during the Merseysiders' 3-1 defeat against Crystal Palace on Saturday (16 May).
"I take this opportunity to wish good luck to Steven Gerrard after his farewell in Anfield. Regardless of rivalries, he is a player that leaves an indelible mark on both European and world football."
© Copyright IBTimes 2023. All rights reserved.