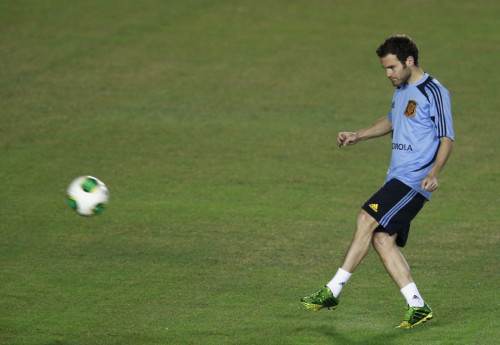 Manchester United's latest signing Juan Mata has revealed his surprise at moving to Old Trafford from Chelsea.
The Spain international was David Moyes's first signing of the transfer window, for a club-record transfer fee of £37.1m.
Mata completed his medical on Saturday. The former Valencia midfielder took the opportunity to thank Chelsea fans for their support, but admitted that the last six months at Stamford Bridge had been difficult.
"To be honest it is a bit surprising [to be at United]. I thought, 'wow'! This is a team that has won a lot of leagues in the history of the Premier League and English league. It's amazing knowing that a club like Manchester United is interested in you. It's a good feeling," Mata told United's official website.
"The last six months were difficult as I didn't play as much as I wanted to. I understand it's a team sport so I respected that situation. But the chance to come to Manchester United was a great moment for me to carry on with my career and join another massive club.
"But I have to say I'm really grateful to Chelsea, to the owner, everyone who works at the club and the fans - they voted me the best player in the last two seasons and I will always be grateful. They have been amazing with me."
The 25-year-old remains confident that his record price tag would not have any impact on his performance.
"I know it is a big price but I'm confident that everything is going to be okay. I will try my best as I always have done. The squad and the manager are very good and the fans are unbelievable – we have everything to be successful," the Spanish midfielder said.
United take on Cardiff City in their next league fixture on Tuesday. The game will pit the Welsh club's manager Ole Gunnar Solskjaer against his former club, while Mata could make his debut for United.