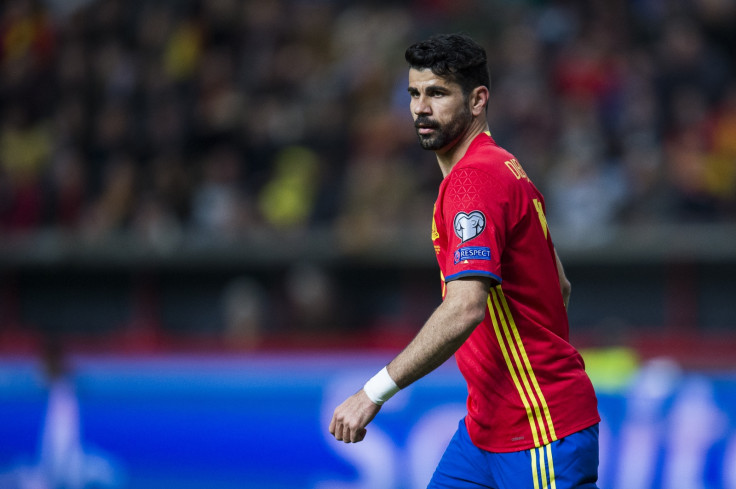 Chelsea striker Diego Costa has been given the green light to continue with the Spanish national team ahead of their friendly with France on Tuesday (28 March) despite suffering an injury scare during a training session with Spain. However, manager Julen Lopetegui suggested that his participation in the game remains uncertain.
Costa helped Spain to secure a 4-1 win over Israel on Friday night, playing the full 90 minutes of the game while scoring a goal.
But the striker set the alarms bells ringing at Chelsea on Sunday after emerged that he had been forced off the training session due to an ankle blow.
The Spanish national has tried to play down the concerns of Chelsea fans after a scan ruled out a major injury.
"Diego Costa was forced to leave the training session after being injured on his foot and ankle, due to which he was submitted to a series of tests (X-ray and TAC) at Sanitas Clinic in La Moraleja, where finally he was given the ok.
"The footballer is still under observation and will remain with the team during training camp," Spain confirmed throw an official statement. "Chelsea FC medical services were informed of the players' condition."
However, Lopetegui said the knock will decide his availability to face France on Tuesday night.
"In principle he will come with us to Paris. As it was only a knock, but not an injury, we will see how evolves. Sometimes when it's only a knock the evolution it's surprisingly positive. It looked big but fortunately it has been only a scare," Lopetegui said to Onda Cero.
"Chelsea have been informed about everything and there is no problem. If he is not unavailable, and the player wants to stay, he continues with us."
Meanwhile, Chelsea manager Antonio Conte will surely be monitoring the situation from London as, just after the international break, the Blues have two games against Crystal Palace and Manchester City in the space of five days.