Julian Assange defied his reputation as champion of openness and disclosure by refusing to meet actor Benedict Cumberbatch for a film about Wikileaks.
The Sherlock actor, 37, e-mailed Assange to request a meeting as he prepared to play the Australian in The Fifth Estate, a movie which covers the leaking of millions of top-secret government files in 2010.
However Assange fired back an angry response, in which he branded the film "toxic" and claimed it was part of a sinister "campaign against me".
Assange urged Cumberbatch to "reconsider your involvement in this enterprise" and said the film presents a "distorted" version of the truth.
The 42-year-old continued: "By meeting with you I would validate this wretched film.
"I cannot permit this film any claim to authenticity or truthfulness. In its current form it has neither, and doing so would only further aid the campaign against me."
Assange intimated that his grievance against the film is rooted in the "deceitful" book from which it was adapted. He said the book was written "by someone who has a vendetta against me and my organisation."
Assange has been holed up inside the Ecudorian Embassy since June last year and has taken to sleeping in the ladies toilets there, he recently revealed.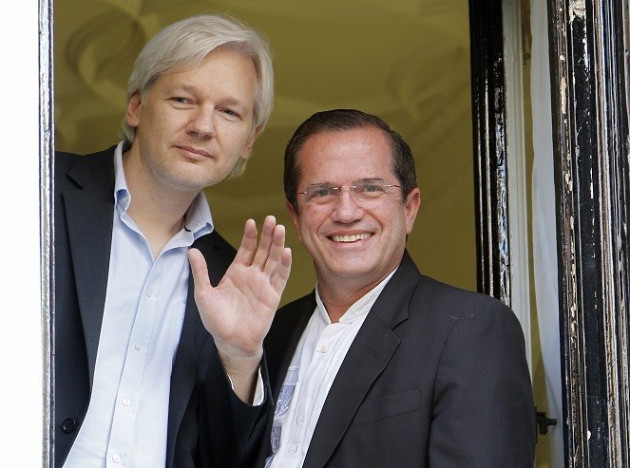 He is currently avoiding extradition to Sweden to face sex crime charges.
Assange did suggest Cumberbatch was "a good person" but added "I do not believe that this film is a good film."
He also suggested that the film industry, in which Cumberbatch is a rising star, is "insidious" and would smother the real truth about Wikileaks.
He wrote: "Feature films are the most powerful and insidious shapers of public perception, because they fly under the radar of conscious exclusion. This film is going to bury good people doing good work, at exactly the time that the state is coming down on their heads.
"It is going to smother the truthful version of events, at a time when the truth is most in demand."
The Fifth Estate is released in UK cinemas nationwide from October 11.