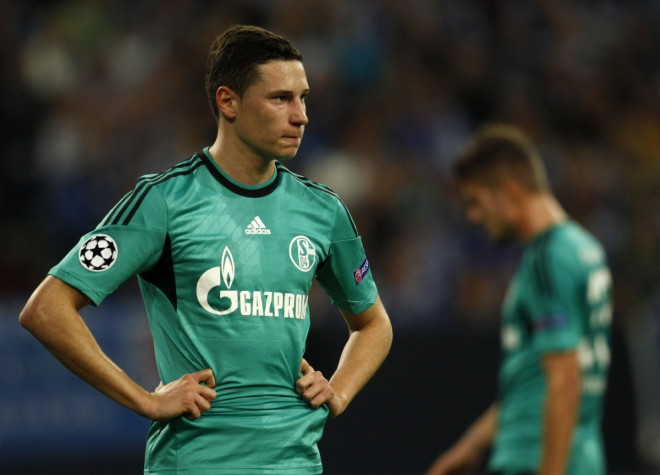 Arsenal target Julian Draxler has refused to commit his future to Schalke by suggesting that if any club meets his £37.8m release clause he will consider moving away in the summer.
The 20-year-old German starlet was heavily linked to the Gunners during the January transfer window. However, reports claimed that the deal collapsed on deadline day as Schalke were not willing to negotiate a deal beneath his buy-out clause, while Arsenal's bid was just £25m.
Nevertheless, Draxler remains Arsene Wenger's main summer target and it is understood that the Gunners will up their bid at the end of the season.
Meanwhile, the German midfielder has suggested that he may leave his side, suggesting that if any club meet his valuation will be a good deal both for himself and Schalke.
"For me it's good because I can make my own decision if a club decides to pay 45 million euros for me and I want a new challenge," Draxler said in an interview with German newspaper WAZ.
"It's no secret that I have a get-out clause in the contract and so from year to year, the possibility exists, at least to think about what is best for my development. Of course, the clause leaves a lot of room for speculation, but it is also good for both sides," the German star added.
"It's good for Schalke because the club does not have to let go of me on the cheap and, in their worst-case scenario, they would still get a lot of money for me. I extended my contract because I feel fine here and the long-term deal shows the appreciation and popularity I enjoy at Schalke."
However, with Bayern Munich reportedly also interested in acquiring his services, Draxler dealt a blow to Arsenal fans by admitting he would be open to playing for Pep Guardiola's side in future, comparing his situation with goalkeeper Manuel Neuer, who made the same move three years ago.
"Look at what happened with Manuel Neuer. He was 100 per cent convinced that he would never join FC Bayern but, after having played as a pro for five years, time made him change his opinion" Draxler said.
"I also can't say what I will think in five or six or maybe even 10 years. And when you rule something out entirely and you end up playing where most people don't want you to be, the outcry is huge."
Bayern chairman Karl-Heinz Rummenigge recently denied they had already agreed a deal with Draxler, despite continuing speculation in the German press.
"Such rumours are ridiculous, absolutely nonsense. Every day a news item comes out and I can only laugh about it. We also talked about it with Schalke, and we agree on this. I just can't explain how these rumours come out. Maybe somebody doesn't sleep well at night."