What do the letters NHS stand for? Judging from placards seen at the junior doctors' strike, it's either "No to Hunt's Stupidity", "New Health Secretary" or "Not Hunt's Slaves".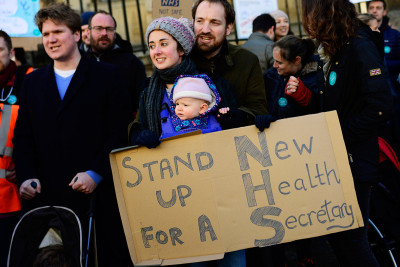 Thousands of junior doctors in England went ahead with their second 24-hour walkout after last-ditch talks between the government and the British Medical Association (BMA) collapsed. Junior doctors will only offer emergency care during the 24-hour period. Hundreds of operations will be cancelled, the NHS said, stressing that many more will go ahead as planned.
Of the 37,000 junior doctors in England, 98% voted for strikes in protest against the new employment contract proposed by Jeremy Hunt. The Health Secretary was the butt of the jokes on many of the placards carried by junior doctors outside hospitals around England.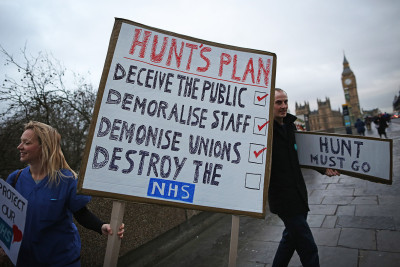 The government wants to introduce changes in the way doctors are being paid. The main sticking point is over weekend pay and whether Saturday should be classed as a normal working day. Junior doctors are currently paid a premium at weekend. The BMA says the contract does not provide proper safeguards against doctors working dangerously long hours.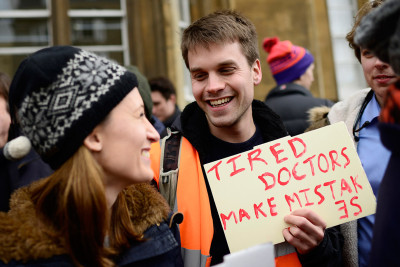 The public appear to be on the junior doctors' side. A survey of more than 800 people, conducted by Ipsos Mori and the Health Service Journal, found that 66% supported the action and 64% said the it was the government's fault the dispute has gone on for this long, compared to only 13% who blamed the junior doctors.