Justin Bieber may be a seasoned performer but even the pop superstar has an off day. The Despacito singer headlined British Summer Time Hyde Park on Sunday (2 July) but was not feeling his best after being struck down by a cold.
Hours after partying with Brooklyn Beckham in London, Bieber, 23, graced the Great Oak Stage to entertain thousands of his adoring fans on a gloriously sunny evening.
Surprisingly, it was not a hangover that weighed Bieber down but his struggle with a cold, which he attempted to cure by sticking Vicks Vapour up his nostrils before the show. The Canadian pop star apologetically told the audience: "I'm having a rough night. Don't judge me".
Bieber's blocked airwaves might explain the not-so-subtle lip-syncing which was unavoidably noticeable throughout the 90-minute set. At one point, the microphone was - rather comically - resting on top of his nose exposing the fact he was intermittently miming.
However Bieber hardly needed the assistance of a backing track considering his vocals did not falter during acoustic and acapella renditions of Cold Water, Love Yourself and a cover of Usher's U Got It Bad, where he was actually singing live.
Health issues aside, Bieber's attitude was incredibly upbeat compared to when he headlined V Festival in August 2016. This time, the pop star smiled on several occasions and admitted he was "having a blast" performing in London, one of his favourite cities, for the final time on his Purpose World Tour. A year ago, it was obvious that Bieber was simply going through the motions of yet another performance on his mammoth trek but now, he is relaxed and visibly enjoying the show.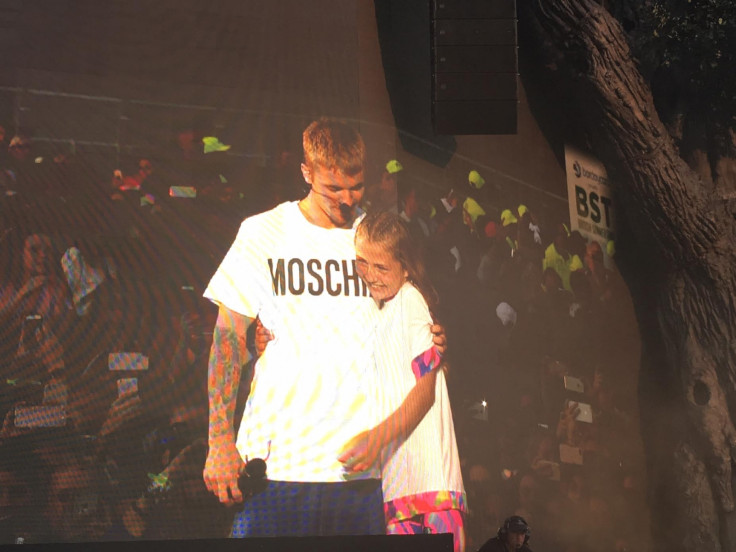 As he blitzed through hit tracks like Let Me Love You, What Do You Mean?, Boyfriend and a throwback to his debut Baby, Bieber added a number of personal touches throughout the night, including sharing the stage with a group of young dancers. After performing Children, Bieber was all heart giving each youngster a tight hug as they endearingly introduced themselves to the packed-out crowd.
Moments like this lend weight to how much Bieber has matured in the past two years - casting aside the awkward moment when he scolded his backing dancers for "goofing around" during one of his heartfelt speeches.
Ultimately, Bieber presented a fleshed-out set complete with an eclectic collection of songs, talented backing dancers and fireworks aplenty, closing the final UK show on his current tour with a bang. Let's just hope Bieber leaves the Vicks at home next time.
Other performers included Martin Garrix, Anne-Marie , Tove Lo and Naughty Boy. BST Hyde park continues on 6 July with Kings Of Leon.