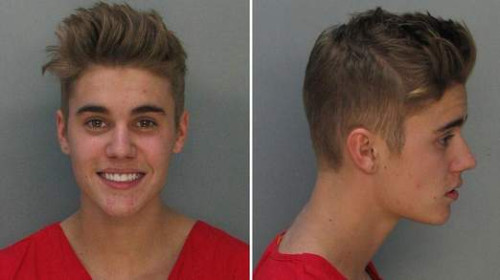 Justin Bieber has been released from jail on bail following charges which include driving under the influence of drink or drugs and resisting arrest.
The singer was earlier stopped by Miami police after allegedly drag racing in a rented yellow Lamborghini with R&B singer Khalil Sharieff.
Officers reported seeing two cars racing at speeds of 60mph in a 30mph zone at 4.09am in a residential area of Miami Beach. Two SUVs had blocked the road so the star could race his friend.
According to the arrest report, the 19-year-old failed a sobriety test and swore at officers when he was stopped.
"Why did you stop me?" he asked, according to the report. "Why do you have to search me?"
Miami Beach Chief of Police Raymond Martinez claimed the Canadian singer had "bloodshot eyes" and added he could smell alcohol on his breath.
"He did acknowledge that he did take a prescription medication and that he had been smoking marijuana and that he did consume a beer".
Martinez described the Canadian singer as "belligerent" and reported that he had resisted arrest, but had done so 'without violence. '
He added that while Bieber had used some "choice words" when he was arrested, he was very cooperative once he had reached the Miami-Dade County Jail where he had his mug shots and fingerprints taken.
The pop star told police he was returning from a studio recording session.
He was also charged with driving with an expired licence and bail was set by a judge at $2,500 (£1,500).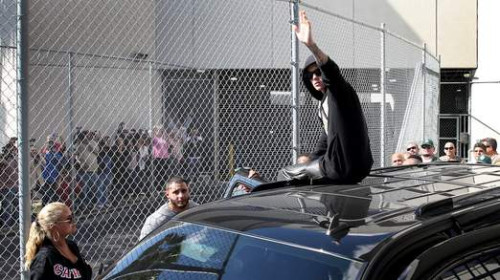 Khalil, who was driving a rented Ferrari, was also arrested and charged with driving under the influence. His bail was set at $1,000 (£600).
A first conviction could bring a fine of between $250 (£150) and $1,000 (£600), depending on the level of alcohol, as well as community service and possibly a jail sentence.
Bieber's arrest comes after a series of controversies. Just last week the singer's California home was raided by police over claims he pelted his neighbour's house with eggs.
He was also involved in a scuffle with photographers outside his hotel during his tour of the UK. He left many of his young fans disappointed after arriving late to his gigs.
The singer came under fire for posting an image of himself smoking marijuana and on another occasion was photographed leaving a Brazilian brothel.
He also split up with girlfriend Selena Gomez, however has posted images of the them together on Twitter, hinting at a reconciliation with the former Disney star.
The singer's errratic behaviour has sparked concern regarding the excesses of his lavish pop star lifestyle.