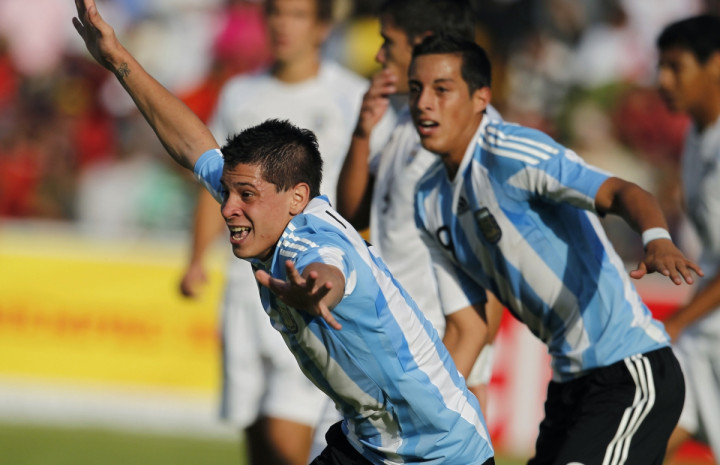 Liverpool are reportedly set to miss out on signing Juan Manuel Iturbe as Juventus make formal approach for the Hellas Verona player.
The Daily Express reports that the reigning Italian champions have tabled a €21m bid and are also allowing Fabio Quagliarella move the other way. Reds manager Brendan Rodgers is thought to be an admirer of the left-footed winger and is keen on adding him to the Merseyside club's roster for the upcoming campaign.
Earlier in June, Verona's sporting director Sean Sogliano had revealed that they will consider selling Iturbe during the summer transfer window if a big club makes a suitable offer.
The Argentinean was sent on loan to Verona from FC Porto last season before making his move permanent in May for €15m. The 21-year-old, who is capped for Argentina at the U-20 level, is dubbed as the 'new Lionel Messi' and has been courting interest from top clubs across Europe including Real Madrid and Arsenal.
However, Antonio Conte's side look to have stolen the march on all the interested parties by making a concrete offer. Juventus' willingness to offer Quagliarella is the prominent factor that could tempt Verona to accepting their proposal.
The report also suggests that the Serie A giants are expecting a swift resolution to the transfer and this could force Rodgers' hand to match or make a better offer for the former River Plate star.
Verona manager Andrea Mandorlini has already conceded defeat in retaining Iturbe alongside another loan signing Romulo from Spartak Moscow.
"I don't know where Iturbe will go, but I wish him all the best. He has grown so much over the past year. He can play for any club," Mandorlini told Sky Sport Italia.
"Romulo also did well with us. We are losing these players, but want to do well next season and repeat the excellent results of this campaign."
Meanwhile, a report from the Tutto Mercato Web claims that AC Milan too are interested in signing Iturbe and are willing to offer €25m cash. It states that the Rossoneri are willing to pay €10m up front and the remaining fee over the next three years.