Group E: Juventus 3-0 Chelsea-FT; Nordsjaelland 2-5 Shakhtar Donetsk-FT
Group F: BATE Borisov 0-2 Lille-FT; Valencia 1-1 Bayern Munich-FT
Group G: Spartak Moscow 0-3 Barcelona-FT; Benfica 2-1 Celtic-FT
Group H: CFR Cluj 3-1 Sporting Braga-FT; Galatasaray 1-0 Manchester United-FT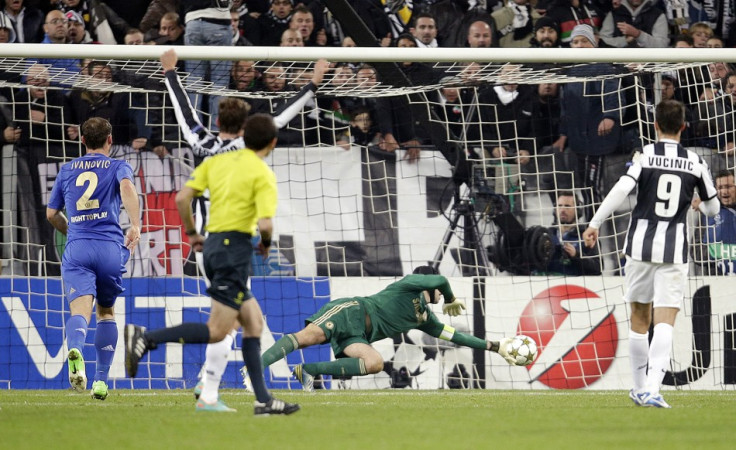 21:42: My sentiments at the start of the night regarded the future of Roberto di Matteo as Chelsea manager, and they end in a similar vein. The holders are on the brink of becoming the first defending champions to go out in the group phase in the Champions League era, after a devastating defeat to Juventus. The Serie A champions need just a point in their final group game against Shakhtar Donetsk, who beat Nordsjaelland 5-2 to book their place in the last-16, to finish above Chelsea, regardless of their result at home to the Danish side.
Manchester United have been beaten as well, albeit in a meaningless game in Turkey, while Celtic will need favours from Barcelona in two weeks, and at least a point against Spartak Moscow in their last group match, to qualify. Their dream is still alive, but for Chelsea, who suffer their heavyiest Champions League defeat for 12 years, their qualifcation hopes are out of their hands.
Elsewhere, Valencia and Bayern Munich are both through after a 1-1 draw in Spain, while Galatasaray take a grip of the second qualifcation spot in group G, despite Cluj beating Braga 3-1.
21:34: Not that Chelsea looked like getting back into the game, but the man who has kept them in it for so long, Petr Cech, has made a crazy move as Juve made it three. The Italian champions clear, and Giovinco is in a foot race with Ashley Cole. The England full back looks like he has the situation covered, but Cech comes storming out of his goal, and the Italy international just toe pokes the ball home from 25 yards into an empty net.
GOAL: Juventus 3-0 Chelsea (Giovinco)
GOAL: Valencia 1-1 Bayern Munich (Muller)

GOAL: Nordsjaelland 2-5 Shakhtar Donetsk (Luiz Adriano)
21:24: Not so much that Chelsea have run out of ideas against Juventus, it's that they don't appear to have any. In Turkey, Federico Macheda and Ashley Young have been introduced to try and get a point for United, who have survived Altintop's shot which hit the bar, while Celtic are hanging on Salvio cracks a shot against the woodwork.
GOAL: Valencia 1-0 Bayern Munich (Feghouli)
21:19: Qualification might have to come another day for Celtic. Having sat back since the start of the second half they were asking to be punished and after Luisao's header, Ezequiel Garay volleys home. Brilliant goal and Lennon and Celtic must go again.
GOAL: Benfica 2-1 Celtic (Garay)
21:15: Apologies for the constant reports from Juventus-Chelsea but with few goals around Europe tonight and frankly, few headlines bigger than the decline of the reigning champions, Italy really is the centre of attention tonight.
21:12: Amid the second half blitz at the Juventus Stadium, you're right to ask how Celtic are getting on in Portugal. Their perfect rearguard (see Barcelona) is action and Benfica are frustrated. Meanwhile back in Italy, Fernando Torres replaces John Obi Mikel. Cometh the man...
21:08: Chelsea need to repeat what Juventus did to them at Stamford Bridge in September by coming from two goals down in the second half. Both Juventus goals have been fortunate, but in truth, Chelsea haven't played well enough to earn the breaks in Turin. They must show all the resilience they produced when winning the competition last season, in the last 25 minutes here, to get their European campaign back on track.
21:05: That might be that for the holders. Moses has replaced Azpilicueta and that has led to a reshuffle to the Blues back four and Juventus expose any problems with an immediate second. Asamoah gets away from Ivanovic on the right, and his pull back finds Arturo Vidal, whose shot deflects off Ramies and goes through the legs of Cech. It's double trouble for Chelsea.
GOAL: Juventus 2-0 Chelsea (Vidal)
21:03: Cech continues to give Chelsea a Champions League lifeline. Quagliarella goes clean through but the Czech Republic goalkeeper puts it behind.
21:00: Things getting worse for Chelsea as they struggle to get a foothold in Italy. Willian and Luiz Adriano put the Ukrainian's ahead on the night. Meanwhle in Turkey, United go behind five minutes after the break. Burak Vilmaz who missed a header in the first half, makes no mistake to keep Galatasaray's last-16 hopes alive.
GOAL: Nordsjaelland 2-4 Shakhtar Donetsk (Luiz Adriano)
GOAL: Galatasaray 1-0 Manchester United (Vilmaz)
GOAL: Nordsjaelland 2-3 Shakhtar Donetsk (Willian)
20:54: Cracking start to the second half in Turin. Vucinic gets in behind Chelsea and he appears to be held back by Gary Cahill before going to ground. No penalty according to the referee. Chelsea break and Mata is hauled down by Chiellini. Luiz's free-kick slams into the wall though.
20:49: Big 45 minutes for Roberto di Matteo and Chelsea. Like it or lump it, you can't imagine Roman Abramovich being overly delighted with the club being on the brink of a group stage exit should the result stay the same. Things must change. If only the Italian had someone who he could turn to....
20:40: Action packed first half across Europe. Let's try and recap. in Group E, the holders Chelsea are very much on the brink of becoming the first Champions League holders to be eliminated in the group phase. They're behind to Quagliarella's deflected goal. while Shaktar's 2-2 draw in Nordsjaelland means they're heading through to the knock-out phase.
After Lille beat BATE, 10-man Valencia and Bayern's 0-0 draw in Spain at this stage sees both teams go through. Antonio Barragán has been sent off for the hosts.
Barcelona are already through after beating Spartak and Celtic are set to join them after Samaras' header pegged back Benfica.
Finaly in group H, the game of the night is in Romania where Cluj lead 10-man Braga 3-1 after Rui Pedro's first half hat-trick, while a youthful Manchester United, already through a group winners, are holding Galatasaray.
GOAL: Nordsjaelland 2-2 Shakhtar Donetsk (Willian)
20:31: Hard not to be gripped by the game in Turin, but there are other games going on around europe. Manchester United are holding on somewhat against Galatasaray, but Nick Powell has attempted to earn the visitors some rest pite, heading against the bar. Close United have come.
20:27: The game has burst into life in Turin. Pirlo's shot deflects off Fabio Quagliarella and beyond an outstretched Cech to give the hosts the lead. From the restart, Asamoah's cross then comes last off David Luiz and beats Cech again only for Ashley Cole to clear the ball off the line. The resulting clearance finds Hazard, who cuts inside and finds Mata free in the area, but Buffon smothers the initial effort. Brilliant game in Italy.
GOAL: Juventus 1-0 Chelsea (Quagliarella)

20:22: Really hotting up now this evening of Champions League football, and Celtic have an equaliser. Charlie Mulgrew, who made the firdt against Barcelona, make another for Giorgos Samaras. The corner is deep and beyond the Benfics defence, and there is the Greek forward to head home unmarked. After being under the cosh for long periods, Neil Lennon's men have a potentially crucial goal.
GOAL: CFR Cluj 3-1 Braga (Rui Pedro)
GOAL: Benfica 1-1 Celtic (Samaras)
GOAL: Nordsjælland 2-1 Shakhtar Donetsk (Lorentzen)
20:16: Two goals in as many minutes in Denmark just shows how quickly things can change in the Champions League. Chelsea were staring down the barrel of topping this group tonight, but Shakhtar's leveller puts us back to square one. All the action is in Turin at the moment, and Andrea Pirlo is the chief tormentor forcing Cech into a smart from a free-kick.
GOAL: Nordsjælland 1-1 Shakhtar Donetsk (Luiz Adriano)
GOAL: Nordsjælland 1-0 Shakhtar Donetsk (Nordstrand)
20:08: United keeping Galatasaray at arm's length so far in Turkey but Yilmaz almost changes the flow of the evening but heads over from a corner. Yilmaz scored a very smart hat-trick in the last group game against Cluj. Arsenal have had a look at him those in the know tell me.
20:05: It's all go in Romania tonight, three goals in 17 first half minutes. Alan, who scored three times against Manchester United over two games, puts Braga back in it. All three teams have qualifcation in their own hands, but perhaps Braga face the easiest task, having already faced United twice in the group phase.
GOAL: CFR Cluj 2-1 Braga (Alan)
GOAL: CFR Cluj 2-0 Braga (Rui Pedro)
20:01: Cech to the rescue again for Chelsea. Pirlo's short corner is nicely worked back to Marchisio whose shot will well saved at the enar post. Juve on top.
19:58: Back in Lisbon 45 years after their European Cup win in 1967, and Celtic go behind again in the seventh minute. Salvio's cross from the right is poorly cleared by Scott Brown and Ola John smashes the ball beyond Forster.
19:55: After almost going behind in the opening stages, Chelsea should be ahead. Oscar shows all the balence and skill that we've come to expect from him to dance his way past the Juventus defence and he feeds Hazard whose shot is tipped into the side netting by Buffon. Very open in Italy
GOAL: Benfica 1-0 Celtic (Ola John)
GOAL: CFR Cluj 1-0 Braga (Rui Pedro)
19:50: Three minutes gone and Chelsea are almost behind. Lichtsteiner gets in behind Ashley Cole and his volley is tipped onto the post by Cech. Meanwhile, Tom Cleverley has a go in Turkey, but his shot is easily saved after taking a wicked deflection.
19:45: My colleague Adrian Back, a veteran of the Champions League live text, has made a living out of predicting the first goal of the evening, and like the good sport I am, I'll be following in his footsteps. I'm expecting the first goal to come from Denmark, and for Ukrainian champions Shakhtar Donetsk. place your bets.
19:40: Just before the pre-match pleasantries get underway across Europe, let me point you in the direction of the big sports story of the day. Unless you've recent discovered fire or suffer from amnesia, you'll have been inundated with news concerning David Beckham's future in the game. Confused as to who is actually interested? Wonder which club Victoria would prefer her husband move to? Look this way as yours truly guides you through the options for Brand Beckham here.
19:31: If the last post made absolutely no sense to you then I'll try and drag some interesting points kicking and screaming from the team news. Chelsea start without a recognised striker with Fernando Torres left on the bench. Daniel Sturridge isn't included in the 18-man squad. Eden Hazard will lead the line in the trendy 'false nine' role.
For Celtic, last season's top scorer Gary Hooper, who has missed the last four returns to the starting XI, while fellow injury doubts Scott Brown and Joe Ledley both make the cut. Heroes from the win over Barcelona; Fraser Forster and Victor Wanyama both start in goal and midfield respectively.
United, who return to 'hell' or a version of it, 19 years on from their infamous trip to Galatasaray where they were met with volatile police, make seven changes from the weekend defeat to Norwich City. Rafael, Anders Lindegaard, Michael Carrick and Javier Hernandez are all retained.
Any questions?
19:22: That's the hard part out of the way, now here's the team news:
Juventus v Chelsea:
Juventus: Buffon, Chiellini, Barzagli, Bonucci, Lichtsteiner, Marchisio, Pirlo, Asamoah, Vidal, Vučinić, Quagliarella
Subs: Storari, Cáceres, Pogba, Pepe, Giaccherini, Giovinco, Matri.
Chelsea: Čech, Ivanović, Cole, Luiz, Cahill (pictured), Azpilicueta, Ramires, Oscar, Mikel, Hazard, Mata
Subs: Turnbull, Bertrand, Romeu, Marin, Piazón, Torres, Moses.
Benfica v Celtic:
Benfica: Artur, Luisão, Garay, André Almeida, Matić, Peréz, Óscar Cardozo, Lima, John, Salvio, Melgarejo.
Subs: Paulo Lopes, Maxi Pereira, Jardel, Bruno César, Nolito, Gaitán, Rodrigo.

Celtic: Forster, Matthews, Ambrose, Wilson, Mulgrew, Lustig, Brown, Ledley, Wanyama, Samaras, Hooper.
Subs: Załuska, Commons, McCourt, Kayal, Miku, Nouioui, Watt.
Galatasaray v Manchester United:
Galatasaray: Muslera, Nounkeu, Semih Kaya, Eboué, Hamit Altıntop, Selçuk İnan, Felipe Melo, Riera, Amrabat, Elmander, Burak Yılmaz
Subs: Ufuk Ceylan, Cris, Çağlar Birinci, Kurtuluş, Engin Baytar, Emre Çolak, Umut Bulut.
Manchester United: Lindegaard, Rafael, Jones, Büttner, Anderson, Carrick, Cleverley, D.Fletcher, Powell, Hernández, Welbeck
Subs: Johnstone, Wootton, Young, Cole, Vermijl, Macheda, King.
19:15: I've taken the liberty of doing the maths ahead of tonight's fixtures so here's how things stand tonight.
Group E: Chelsea will only qualify tonight if they beat Juventus. Shaktar Donetsk also require a win against Nordsjealland, and hope the other game doesn't end in a draw, to reach the last 16.

Group F: After Lille's win over BATE, Valencia and Bayern need only draw their match in Spain to both qualify for the knock-out phase
Group G: Manchester United have already qualified at group winners. Consecutive wins for either Cluj or Galatasaray will secure their passage.
Group H: Barcelona qualify virtue of their win over Spartak. Celtic will qualify should they either beat OR earn a score draw against Benfica in Lisbon tonight.
19:00: Despite going where the likes of Jose Mourinho and Carlo Ancelotti failed while at Chelsea, in winning the Champions League, Roberto di Matteo finds himself on the brink at Stamford Bridge. Four points off the top of the Premier League summit, Chelsea require victory against European heavyweights of yesteryear, Juventus, to book their place in the knock-out phase. Any other result will set up a nervy final matchday when they host Nordsjealland and swell the pressure on the Italian.
Welcome to matchday five in the Champions League. We're with Celtic as they attempt to reach the knock-out phase for the first time since the 2007/08 season, Chelsea as they look to overcome Juventus and a youthful Manchester United in their dead rubber against Galatasaray. Every goal from around Europe to come as the evening comes to the boil as well.