The intriguing Minuum isn't the only keyboard looking to change the way we type on touchscreens after two scientists claimed to have created a keyboard for tablets that is faster than the regular Qwerty layout.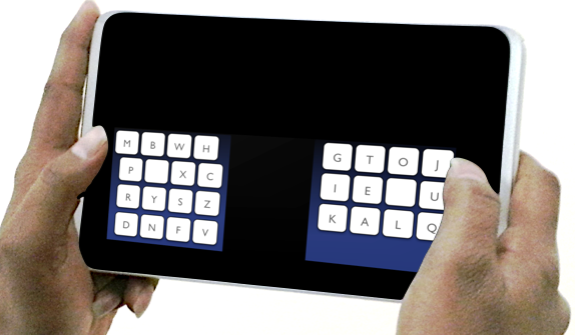 Called Kalq, after the order of letters in the lower-right corner, the keyboard is said to help users type up to 34 percent faster on touchscreen tablets than with a traditional key layout.
To improve typing speeds researchers at the University of St Andrews designed a layout that places letters based on how comfortably they can be reached by each thumb when a tablet is held aloft, as well as how often they are used.
Dr Per Ola Kristensson, lecturer in human computer interaction at the university, said: "The legacy of Qwerty has trapped users with suboptimal text entry interfaces on mobile devices.
"However, before abandoning Qwerty, users rightfully demand a compelling alternative. We believe Kalq provides a large enough performance improvement to incentivise users to switch and benefit from faster and more comfortable typing."
The Kalq team recognises that the typing ergonomics of using two thumbs while holding the device are very different to what the Qwerty layout was designed for - typing mostly with fingers on a flat surface.
A problem, they claim, is that typing with two thumbs makes many commonly used words slow and cumbersome to type because all their letters are reached with the same thumb, for example, "on", "see", "you", "read", "dear" and "based".
Dr Antti Oulasvirta, senior researcher at the Max Planck Institute for Informatics in Germany, who is also working on the Kalq keyboard, said: "The key to optimising a keyboard for two thumbs is to minimise long typing sequences that only involve a single thumb.
"It is also important to place frequently used letter keys centrally close to each other. Experienced typists move their thumbs simultaneously: while one thumb is selecting a particular key, the other thumb is approaching its next target."
And it is from analysing this behaviour that the Kalq team has developed their new keyboard layout, which includes placing all vowels within reach of the right thumb.
Once trained how to use the keyboard - and backed up by some sophisticated error correction software - Kalq said users were able to reach 37 words per minute which, it claimed, was "the highest ever reported entry rate for two-thumb typing on touchscreen devices".
Developed for Android tablets, the Kalq keyboard will be presented at the CHI 2013 conference (the conference on Human Factors in Computing Systems) in Paris on 1 May and released later that month.