Kim Kardashian in Worst Dressed List: Reality Star Fears She's Ruining Kanye West's Reputation With Her Style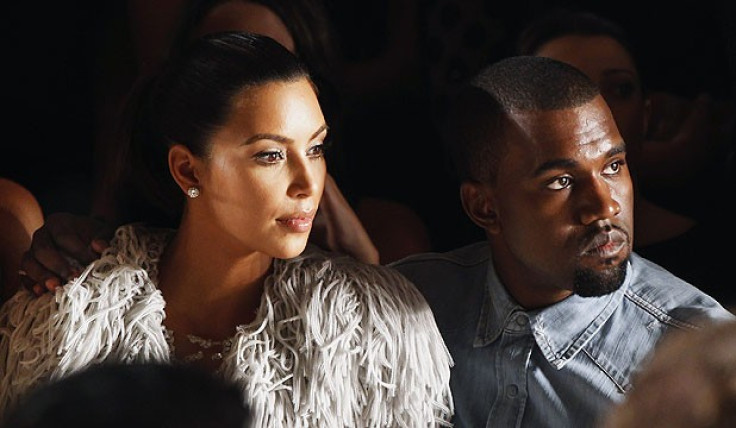 Reality television star Kim Kardashian had a wardrobe revamp after boyfriend Kanye West threw out most of her clothes. In the latest episode of her reality show, Kourtney and Kim Take Miami, the 32-year-old is seen upset to find out that she is in the worst dressed list in a website and blamed the rapper for her style choices.
Kourtney Kardashian's partner Scott Disick pointed out to Kim that she was placed on the worst dressed list.
"I'm on the worst dressed list?" she said, "I already have so much pressure to go shopping again because I don't have enough stuff here."
"It's part of my job to look chic at all times. And as if Kanye has the time to dress me every day...I feel bad that Kanye gets the bad rap for dressing me," Kim said, adding, "It's so rude."
Kim, who is expecting her first child with West in July, went on a shopping spree spending heavily on clothes, shoes and accessories.
"You guys are too superficial as a couple. I don't know how you can spend $5,000 on a dress without even thinking about it," Kourtney remarked.
But her sister's comment did not restrain her from shopping more.
"I don't want to give my boyfriend this bad rep because for some reason, everyone blames him for dressing me," Kim explained.
West views the Duchess of Cambridge, Catherine Middleton as a fashion icon, and had advised Kim to follow her elegant English style.
Kim's makeup artist Rob Scheppy had also praised Middleton's classical grace.
"Kate Middleton has influenced [Kim's] look while in London. Kate's amazing. We watched her wedding and we thought it was beautiful. Kim's style icon is Sophia Loren," Scheppy previously told the Daily Star, "Kanye does like to get involved with Kim's look. He actually has a lot of input, he has amazing style so we take his opinions to heart and I say: 'OK, I'll try it.' Kanye's not afraid to say what he likes. He definitely likes the less-is-more look. Everyone wants to look good for their man, so Kim will listen and say: 'OK. I'll go with what my boyfriend says.'"
© Copyright IBTimes 2023. All rights reserved.