Just hours after cancelling his Saint Pablo tour, Kanye West has reportedly been admitted to hospital. According to multiple media reports, the hip-hop star is receiving treatment for exhaustion in Los Angeles following a "disturbance call" at his home.
The Los Angeles police department confirmed it had responded to a report of disturbance on Monday (21 November) afternoon, but did not name the singer. "At 13:20 Pacific Time, the Los Angeles Fire Department responded to an unspecified medical aid request," a spokesperson for the service said. "An adult male described as medically stable was taken to an area hospital for further assessment."
While there are currently conflicting reports about his admission, here is what we do know so far about the Famous hitmaker's worst week to date.
Tuesday 22, November
Kardashians arrive en masse in LA
Kris Jenner, Kourtney Kardashian and Corey Gamble touched down in LA on Tuesday as they returned to support Kanye's wife Kim, the Mail Online reports. The family had been in New York for a gala they were due to attend, though Kim flew back on Monday night.
Kourtney expressed solidarity with her brother-in-law as she disembarked from the jet in LA wearing a pair of Yeezy sweatpants, bearing the rapper's nickname "Yeezus" across the front.
John Legend speaks of his 'concern' for Kanye
Singer John Legend told CBS news' This Morning programme on Tuesday that he had sensed all was not well with West when he and wife, Chrissy Teigen, recently spent time with West and Kim Kardashian.
He said: "We were with Kim, actually, you know, right before all of that.
"I was concerned by what I saw, so hopefully he's getting some rest and some time to figure things out."
Kim Kardashian's sex-tape ex slams Kanye West in new diss track
R'n'B singer Ray J unveils a diss track titled Famous, featuring Chris Brown. The song, which is said to be a response to West's song of the same title, slams Kimye.
The track features the line: "She f****d me for fame, look in her eyes / She was the first one to sign on the line / She was the real one to plan it all out / Look at the family, they walk around proud / All because she had my d**k in her mouth" has provoked the wrath of West's fans in light of reports that he has been hospitalised.
Monday, 21 November
He cancelled the remaining dates on his Saint Pablo tour
Originally set to end on 3 November, West extended the North American leg of the tour by adding 20 extra dates stretching until New Year's Eve (31 December) with a final date in Brooklyn, New York City. It has been confirmed that the remaining shows will no longer go ahead.
Kim no show at Angel Ball in New York
The rapper's reality-star wife Kim Kardashian was expected to make her first public appearance since she was robbed at gunpoint in Paris in October, but did not attend.
Kris Jenner says her son-in-law is 'exhausted'
Attending the ball was Kardashian's mother, Kris Jenner, who spoke to US media about the rapper's reasons for cancelling his shows. "He's exhausted, he's just really tired. He's had a gruelling tour and it's been a grind so he just needs some rest," she told US TV show Extra.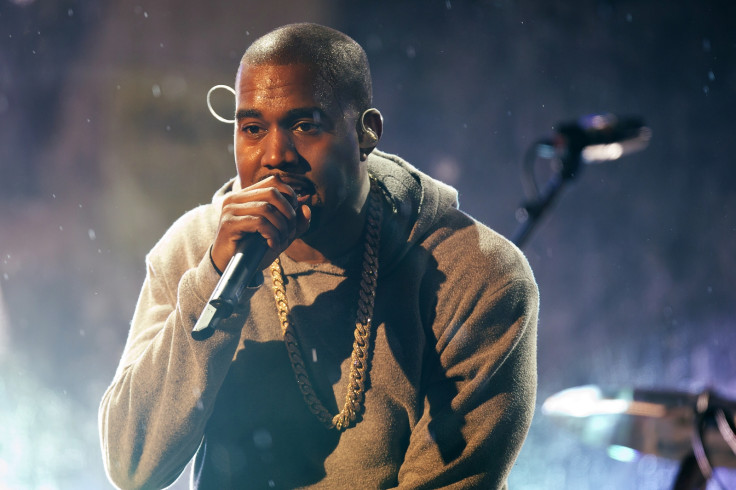 Saturday, 19 November
Emotional Kid Cudi reunion
West put an end to his highly-publicised feud with rapper Kid Cudi when he brought the rapper onstage at his show to perform his track waves. Footage shared on social media show the pair embracing on the flying stage. At one point West appears to be wiping away tears.
Beyonce and Jay Z rant
Weeks after lambasting Jay Z for not visiting his wife in the wake of her Paris robbery ordeal, he targeted the power couple once again in another expletive- filled rant at his concert in Sacramento on 19 November.
West claimed the MTV VMAs was fixed in Beyoncé's favour saying: "Beyoncé, I was hurt, cause I heard that you said you wouldn't perform unless you won Video Of The Year over me, [Drake]. sometimes, we be playing the politics too much and forget who we are just to win. F**k winning."
He also added that Jay Z employs contract killers and he feared they could be sent to kill him. He said: I've been sent here to give y'all my truth – even at the risk of my own life, even at the risk of my own success, my own career," he said.
Ended concert abruptly
Following his rant, he left fans furious when he ended the concert after just three songs declaring that the "the show's over" before walking off stage.
Thursday, 17 November
Praising Trump
Earlier in November, West lost scores of fan by revealing that had he of voted in the US election, he said he would have voted for President-elect Donald Trump because he admired his campaign.
"I wanted to say that before the election, but they told me, 'Whatever you do, don't say that aloud'. Not only did I not vote, but there were a lot of things I actually liked about Trump's campaign."
He added: "His approach was (expletive) genius – because it worked."
Friday 4 November
The 39-year-old star brought his concert at the Forum in Inglewood, LA to an abrupt end after he started suffering throat problems. The hip-hop star had been on stage for 45 minutes before informing the crowd he could not continue his performance of his hit Only One.
"I'm very sorry. I love you. I promise to do better next time," he told the crowd "We gonna catch up on another time, I can't let y'all have a show where I can't [sing]."
Sunday 2 October
The Famous rapper was forced to end his headline performance at the debut Meadows Music and Arts Festival in Queens, NY, abruptly after being informed that his wife has been robbed at gunpoint in Paris. "I'm sorry, there's a family emergency, I have to stop the show," West told stunned crowd before leaving the show.