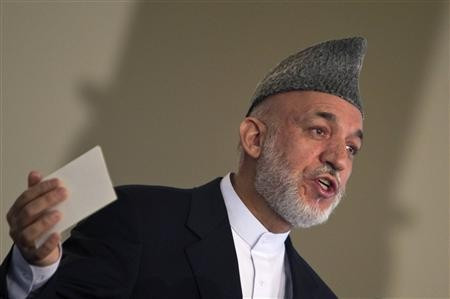 Afghan President Hamid Karzai has led mourners at the funeral of Ahmed Wali Karzai, his influential younger half-brother, who was assassinated on Tuesday afternoon in Kandahar by a member of his own security team.
Thousands of people gathered on Wednesday morning amid tight security outside the provincial governor's compound where Ahmed Wali's body was kept.
People then took buses for the funeral procession to the family village of Karz, about 20 kilometres away.
Security forces formed a tight perimeter around the compound and helicopters could be seen circling overhead, but despite the tightened security, two explosions were heard in Kandahar Shortly after the funeral, Reuters said.
It was not immediately clear what caused these blasts, where they happened or whether there were any casualties.
Also, according to Al Jazeera's sources, the Governor of Helmand province escaped an explosion near his car on the way to the funeral.
"We know we live in a dangerous country. We know that security has to be tight all the time and the president knows [this]. He's got good security and that is not a worry for the president," Waheed Omer, Karzai's spokesman, told Al Jazeera.
"The president is upset; he is still in grief, about the death of his brother. Wali was a very close brother of the president," Omer said.
Karzai spoke of his brother's death at a news conference with visiting French President Nicolas Sarkozy on Tuesday.
"This is the life of the people of Afghanistan. Afghan families, every one of us, have suffered from it, and we hope, God willing, for our suffering to be over," he said.
The Taliban claimed responsibility for the killing of Karzai's brother and many say that if true, Ahmed Wali Karzai's death may just be a warning addressed to the President.
Recently Al Qaeda insurgents and other militants have conducted a string of high profile attacks aimed at weakening the government, proving that they are still willing and ready to fight. The attacks also contradicted reports by U.S, U.K and French officials that the Taliban did not represent an important threat anymore.
The murder of the president's younger brother also came not long after talks between the Afghan government, the U.K and the U.S acknowledged there had been talks with the Taliban. While a few weeks ago, western military officials insisted there needed to be an inclusive dialogue with all political voices to prepare the country for the full withdrawal of foreign troops, it seems now unlikely that Karzai will be willing to negotiate with the Taliban.
Also while some analysts insist Ahmed Wali Karzai's death will deprive Nato of a vital ally in Kandahar, the politicians had been accused of having links to the country's lucrative opium trade, ties to private security firms, and contributing to the spread of corruption in the province.
Over half of all assassinations in Afghanistan since March were carried out in Kandahar city, a recent UN report said.