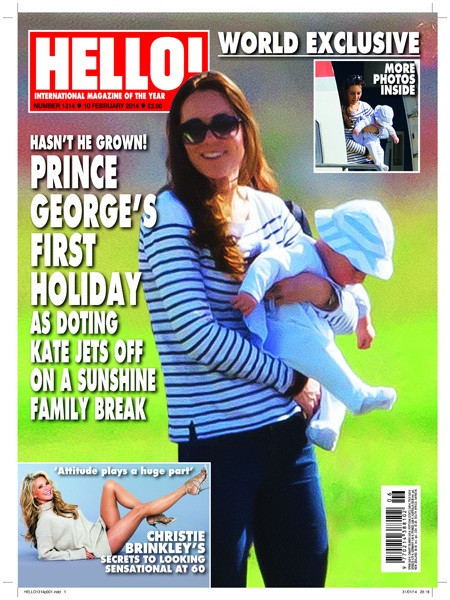 Kate Middleton and Kensington Palace have not objected to photo of Prince George taken during Kate's private vacation with her son in the Caribbean.
The photo which appeared on the cover of the latest issue of Hello magazine, is the first paparazzi photo of prince George and also the first since his christening photos were released in October.
Kensington Palace said it would not take any legal action against the magazine for publishing George's photos.
The palace had not objected to the pictures because they were taken "in a public place, without any harassment or pursuit," a royal source said.
The palace's stance has raised questions of whether the Duke and Duchess of Cambridge are exercising image control rather than protecting their privacy, especially when the royal couple have taken legal action in the past over their "off-duty" photos published in the media.
"If you do permit some things and not others it is a form of image control as opposed to a form of privacy," Chris Hutchings, a privacy expert with the law firm Hamlins told The Telegraph.
According to legal experts, William and Kate's silence on the photos is also surprising because the royal couple recently established companies to protect their "brand" and intellectual property rights, including their image rights.
The Hello magazine photo features the Duchess of Cambridge carrying the six-month-old George as she jets off to the Caribbean island of Mustique to join the Middleton family break.
The headline along with the photo reads: "Hasn't he grown! Prince George's first holiday as doting Kate jets off on a sunshine family break."